1921
Nguyen Ai Quoc (an alias of Ho Chi Minh during his revolutionary activities from 1919 to 1941) took part in a demonstration held by the French Social Party at Père Lachaise cemetery in Paris to mark "Blood Week" when thousands of Parisians, especially workers and the lower-middle classes, were killed by the Versailles army during their fight to protect the Paris Commune in the spring of 1879.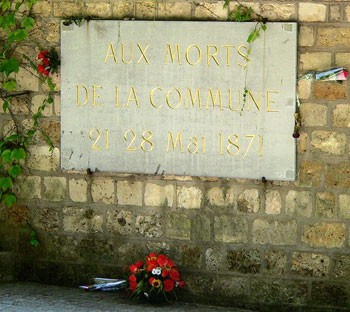 A plaque honours the Paris Commune in Père Lachaise cemetery (Photo: Wikipedia)
1922
La Vie Ouvrière published an article titled "Under noble exploration" which hailed the ruling policies and ruthless cunning of colonialists in exploiting their colonies and protested against a British colonial minister's statement.
1946
President Ho Chi Minh attended the founding congress of the Vietnamese National Union and was elected as its honorary president.
The same day, he presided over a Government meeting held to prepare for his visit to France. Speaking about the appointment of Vu Dinh Huynh as his secretary and special aide, the President said: "We had assigned Huynh to captain and he must greet all French army officers. On behalf of the Government I brevet Huynh to colonel. Hence he must greet only Salan." Raoul Albin Louis Salan was the commander of the French forces in Tonkin and he signed agreements regarding the disposition of French troops in Vietnam.
The same day, the President and General Salan visited French armored division N.2. Speaking to French soldiers, the President said: "I will pay a visit to France, your beautiful motherland. I will tell your mothers, sisters, and lovers that all of you are ok".
1952
President Ho Chi Minh sent a letter to people living in provinces with river dykes. He wrote: "We have avoided floods and hunger for several years thanks to people's attempts… This year the water level may increase higher than in previous years. We won the fight against floods in previous years. This year we must be determined to win. You must contribute materially and physically to protect the dykes."
The same day, Nhan Dan newspaper published an article titled "Keep secret to ensure safety of cadres" by the President under the pseudonym "C.B". In it, he praised a 10-year-old child who acted as a contact person for the revolution and guard for revolutionary cadres.
1960
In an article "Progress of handicraft collectives" published in Nhan Dan newspaper, the President pointed out important requirements for strengthening and developing collectives.
He wrote: "Cadres must put the country's interests above all, must govern democratically, manage thoroughly, distribute equally. Collectives must study each other."

1963
President Ho Chi Minh said the Ngo Dinh Diem administration savagely repressed Buddhists in South Vietnam and warned: "American imperialists must withdraw from South Vietnam and the South Vietnam issue must be resolved by people in South Vietnam".
By Duong Trung Quoc* and co-writers
*The author is a historian and member of the National Assembly