1946
In an article, "Soviet Union and its Red Army," in Cuu Quoc (National Salvation) newspaper, Ho Chi Minh wrote, "The Soviet Union's Red Army know how to fight their enemy and they have absorbed good education and culture. The Soviet Union has supreme military commanders who are praised as clear-sighted, talented and virtuous leaders. We are to organize our national army, so we should learn from the valuable experience in the history of the Soviet Union's army's construction."
President Ho Chi Minh issued a decree on the protection of individual freedom and announced the appointment of great intellectuals educated under the old regime, like Huynh Thuc Khang, Bui Bang Doan and Vu Trong Khanh, to an appeals panel based at the Ministry of Interior.
He posed, while reading newspapers in North Vietnam's Government Office, for painters To Ngoc Van and Nguyen Do Cung and sculptor Nguyen Thi Kim.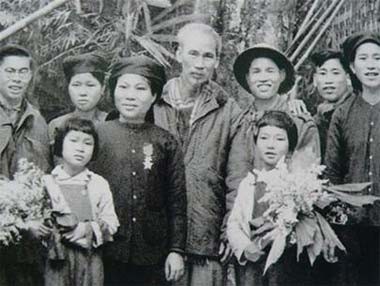 President Ho Chi Minh poses with some delegates of the first National Congress of Outstanding Soldiers and Cadres in 1952.
1947
The President received a number of journalists while he was overseeing some battlefields. In reply to questions on current international issues, he said, "Thanks to solidarity, democratic countries have defeated the fascists. At present, when they have gained a victory, they should continue uniting together to preserve the peace… In my opinion, the situation of the world democratic front is optimistic."
Commenting on the difficulties facing France, he said, "France's political, economic and financial situation is now severe. But the French are an undauntable nation, so I believe they will manage to resolve their problems… If France wants to gain a recovery, it had better cooperate with other nations. Our people and government always welcome democratic French people."
Regarding Vietnamese soldiers, he said, "Despite being soaked by the sun and soaked by the rain, suffering hunger and bombings, our soldiers remain happy, determined and optimistic. They really deserve to be called 'Pioneers of the nations.'"
1952
Talking with participants of the first National Congress of Outstanding Soldiers and Cadres, President Ho Chi Minh said, "As compared with those of the enemy, all of our material conditions and equipment are weaker. Nonetheless, we are determined to initiate a resistance war and we are confident in our victory. That is because our people have a heroic spirit, and a warm and profound patriotism… Our exemplary soldiers should continue being close to the public, united with them and learn from them."
1959
In an article, "Fighting drought should be continued," in the Nhan Dan (People) newspaper, he encouraged farmers in the North in their hard fight against drought. He concluded the article with two lines:
"To have plentiful food to live happily
Supply enough water to the paddy" 
By Duong Trung Quoc* and co-writers
*The author is a historian and member of the National Assembly