1920
 
The French Socialist Party's L'Humanité (Humanity) published an article titled "In Indochina" by Nguyen Ai Quoc, an early alias of Ho Chi Minh.
 
He narrated a mutiny by sailors on ships leaving Hai Phong port, transporting Vietnamese soldiers to Syria.
 
He said, "France has let thousands of our people starve to death and thousands of [others] be cannon fodder in the Middle East. It is the way in which France has protected us."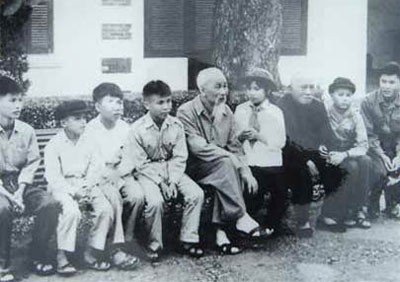 Uncle Ho (Center) and then-Vice President Ton Duc Thang meet some young people from the South in this undated photo
1948
He wrote to aged former guerillas of Yen Dung District in Bac Giang Province to express sympathy over seven guerillas who had made the supreme sacrifice for the sake of their country. 
On behalf of the Government, he said, "They sacrificed their lives but their patriotism, indomitable will, and brave spirit will be in hearts of all fellow-citizens and guerillas. Their fame will be handed down to posterity in an independent and unified Democratic Republic of Vietnam." 
1953
He offered his own recommendations to a document titled "Suggestions on working regulations for Vietnamese advisers and officials with the Lao Government." 
He wrote on the document: "Be honest and show solidarity in work. Self-criticize and criticize each other honestly. Vietnamese officials should absolutely abstain from responsibilities they cannot discharge. Lao officials should avoid acting pompously." 
1958
He presided over a Government Council meeting to organize a ceremony after the inauguration for new members to take the oath.  
He said: "As you have just vowed, we have to do our utmost to serve the people, be public-spirited, selfless, and an example in terms of virtue and talent. It is revolutionary morality. The Government has new members, [we] have to have a new working style and behavior, not be bureaucratic so that no work is left undone, and try to overcome difficulties to fulfill duties assigned by the people." 
"The people have tried and so have we, and [since] we are being helped by friendly countries, socialism will surely be established and the cause of reunification will succeed." 
1968
Uncle Ho received Ho Van Men, a valiant teenager who was visiting from the South, and had a meal with General Nguyen Chi Thanh's mother and wife. 
On the same day Nhan Dan (People) published an article titled "Talking about Karl Marx while traveling" he wrote under the pseudonym Viet Hong. 
After narrating many lively stories about his life, which followed the tenets of Karl Marx, "our Communism teacher," he concluded, "Marxism is profound. Revolutionaries have to learn Marxism. In summary, Marxism teaches us to be absolutely loyal to the Party and serve the working class with all our might." 
"Marx teaches us: The proletariat in all countries shows solidarity. Lenin, his talented student, added that the proletarian class in… oppressed nations shows solidarity. These two slogans are great flags for leading the proletariat and oppressed nations to complete victory."

By Duong Trung Quoc* and co-writers
*The author is a historian and member of the National Assembly