1945
At the Lam Son rocky mountain area in the northern Cao Bang Province, President Ho Chi Minh held a meeting to prepare for an uprising. Attending the meeting were senior central cadres Hoang Quoc Viet, Vu Anh, Pham Van Dong, Dang Van Cap, and Dang Viet Chau, and officials from the joint Party Committee of Cao Bang, Bac Kan, and Lang Son Provinces.
1950
In a speech at the first National Congress on Training and Learning, the President, with his experience of an eminent revolutionary organizer and propagandist, pointed out the basic issues in training and learning.
"Not everyone can become a trainer. To train a blacksmith or a fitter, the trainer must be proficient at those jobs; to train an organization, the trainer must improve himself and become exemplary in terms of virtue and thinking and working styles. To train well, a trainer must learn more and more.
"Lenin advised us to 'Learn, learn more, learn forever.' Everyone, particularly trainers, must keep this in mind and practice it. A trainer who claims to know everything is the most illiterate.
"The slogan 'Not to get tired of learning; Not to get tired of teaching' hung in this meeting-room is of Khong Tu (Confucius). Vladimir Lenin instructed us that only true revolutionaries can comprehend the knowledge bequeathed by our ancestors."
Regarding the role of press, he said: "The press must be rationalized, avoiding doing so many different things at the same time. It can do a few things but must do them thoroughly. If the press is not rationalized, there will be none wanting to read newspapers while printing them is very costly."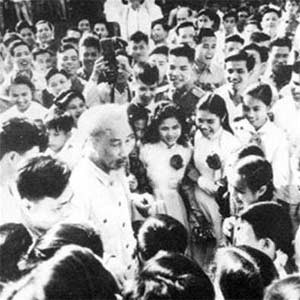 President Ho Chi Minh with delegates of the third National Congress of Heroes and Outstanding Soldiers in 1962
1951
   
President Ho Chi Minh issued a decree to establish the  National Bank of Vietnam and appointed Nguyen Luong Bang as its general director.
1961
At a conference of the Party Central Committee, the President pointed out weaknesses in cadres' working styles.
"We are underdeveloped not because we do not realize our weaknesses, but because we fail to correct them. The government has warned some ministries about this situation but they failed to respond or responded sluggishly –  they are great talkers and not doers.
"Sluggishness has become common in learning, meeting, and working. We must change, actually change, such behavior, placing emphasis on basic issues first. Every ministry and industry must draw experience from their work. First of all, we must have the determination to improve ourselves."
1962
Addressing the closing session of the third National Congress of Heroes and Outstanding Soldiers, President Ho Chi Minh said: "This congress has yet to highlight the important role of cadres working in the fields of journalism and art.
"The media should showcase and honor good people and good work, and be critical of practices like laziness, embezzlement, extravagance, and bureaucracy. It is an essential task.
"And artists must realistically and vividly describe those people and behaviors using poetry, literature, painting and other skills."

By Duong Trung Quoc* and co-writers
*The author is a historian and member of the National Assembly