1946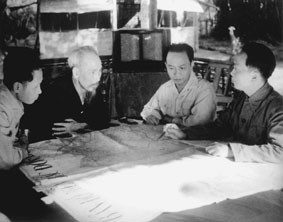 The filed photo shows President Ho Chi Minh discussing plan with leaders of Dien Bien Phu campaign
President Ho Chi Minh participated in a Government Council meeting on financial problems. At the meeting, China's General Luhan called for various contributions in order to avoid a confrontation with Chinese troops, who were withdrawing from Northern Vietnam under a treaty with the French government.
The President and Government ministers agreed to support Gnr. Luhan in order to prevent conflict.
1954

Hearing the good news about the victory at Dien Bien Phu, President Ho Chi Minh wrote a letter to congratulate soldiers and Tay Bac residents, "Our army has liberated Dien Bien Phu. The victory is great yet it is just the beginning. We should show our modesty, although we achieved victory, we cannot underestimate the enemy. We are determined in the fight to regain independence, unification and peace. To achieve victory, we wage a protracted and arduous resistance."
1959

In a visit to the Tay Bac Autonomous Zone, the President met residents in Chau Yen, Son La Province, advising them how to enhance people's living standards and souls.
Talking about forest natural resources, the President recommended, "Woods are cut down in some places. Chopping down trees to make fires or let it rot is like throwing away money into rivers. Should we protect woods or destroy them? We ought to keep forests well to turn them out like precious metals and machines in five or ten years."
The President advised local officials, "People at all levels, even me, are servants of people. We are not kings or mandarins, therefore we must not oppress people but we must take care of their lives."
1963

Hearing the National Assembly's plans to offer the President the Sao Vang (Golden Star) Order- the most honorable distinction of the state, at the conclusion of the sixth session, the President said, "I was very touched and happy to hear the news that the National Assembly planned to grant me the Sao Vang Order, the country's most noble reward. I have sent my gratitude to the National Assembly. However, I asked permission to refuse the order because it is granted to those who deserve it better than me.
"When the South is totally liberated, Vietnam achieves peace, and the North and South are unified, the NA will allow Southern people offer me the order. All people will be happy."
The President also criticized US policy, "President Kennedy has to be clear about history. As it has proved once before that when a nation is unified to fight for independence (like the forefathers of President Kennedy and people in Southern Vietnam now), they will surely achieve victory.
"I am sure that the South people will win, and the South and the North will certainly unite. Our beloved country will gain peace and unification."