1945
 
Nguyen Ai Quoc, an early alias of Ho Chi Minh, had still kept in touch with the US's Office of Strategic Services (OSS) in Kunming, China, due to a common commitment to fight the Japanese.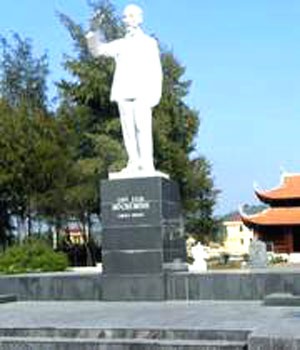 Statue of President Ho Chi Minh on Co To Island
He wrote to Charles Fenn, an OSS agent, he said, "I hope our friends will learn radio engineering and other essential things for the common fight against Japan. I hope I will soon have the honor of receiving you at our base. It will be great if that happens."
 
1946
 
President Ho Chi Minh received a delegation of ethnic people from Tuyen Quang and Ha Giang provinces.
 
On the same day, he gave tea, which some people had presented him, to a militia unit of Hoang Dieu citadel.

1950
 
He attended a Party Central Conference to discuss preparations for the Party's second Congress.
 
Regarding renaming the Party, he said, "It is essential because it will help gather all progressive workers, farmers and intellectuals to join the Party. It will help call upon the people, since we need to show wide solidarity with [all] classes."
 
1961
 
He visited Co To Island, Quang Ninh Province. He encouraged the island's officials and residents that, "Though Hanoi is far from the island, the Party and the Government always care about people on islands and hope people on islands show solidarity, try and be progressive."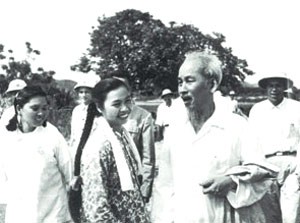 President Ho Chi Minh visits Co To Island, Quang Ninh Province, on May 9, 1961

1965


 
To mark the 20th anniversary of victory over fascism, he wrote an article, "Two glorious commemoration days," in Nhan Dan (People) under the pseudonym Chien Si.
 
He related it to Dien Bien Phu Victory and concluded that, "For the time being, the US imperialists have only two ways: ending the war and withdrawing from the South "politely" or being stubborn and wait for Southern forces and people to expel them."
 
1966
 
Receiving a Free German Trade Union Federation delegation, he said, "Gifts which you are bringing don't only have material value but also show a valuable thought. Previously, when Vietnamese people carried out a war of resistance against French colonists, we were supported but it was not a broad support movement like now.
 
"Not only the old but also teenagers and children worldwide understand and show solidarity with the country. It is an important factor, one of the keys for our people to gain complete victory."
 
1968
 
At the house on stilts in the President's Palace, he received and had a meal with Ta Thi Kieu and Ho Van Men, valiant fighters who were visiting from the South.

By Duong Trung Quoc* and co-writers
*The author is a historian and member of the National Assembly