Almost 150 kilograms of nails and sharp metal objects scattered on Ho Chi Minh City streets have been collected by voluntary groups so far this year, according to the community service arm of the Ho Chi Minh Communist Youth Union.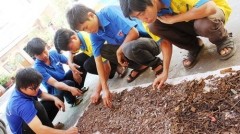 Nearly 150 kg of nails have been collected from HCMC streets until now.
The number was given by the arm at a meeting Friday in the city to judge the effects of its 'war' on 'nail traps,' the scattering of nails and pointed objects on streets by motorbike repairers to cause flat tires and charge exorbitant fees for fixing them or selling new tires to their 'prey.'

The groups were set up to gather those nails and pointed objects by using mobile magnetic boxes towed behind their motorbikes.
Nails and iron objects are mainly scattered on streets in District 2, 7, 9, 12 and Thu Duc District.
The scatters are now turning to aluminum and plastic nails to 'neutralize' the magnetic boxes, so the groups have been trying to improve their tools in order to adapt to this new gimmick.