On June 18th, under the program of inhabitants' relocating in Hochiminh city, 512 newly-built flats were delivered to households in An Phu – Binh Khanh Ward in District 2, Ho Chi Minh city.
Attending the ceremony were representatives of HCM city Department of Construction, Thu Thiem managing board for building new urban area and Nam Rach Chiec Building Company…
This is part of a project of constructing 12,500 flats in the 17.3 hectares of new urban area of Thu Thiem, with the designing quality equal to Phu My Hung population area.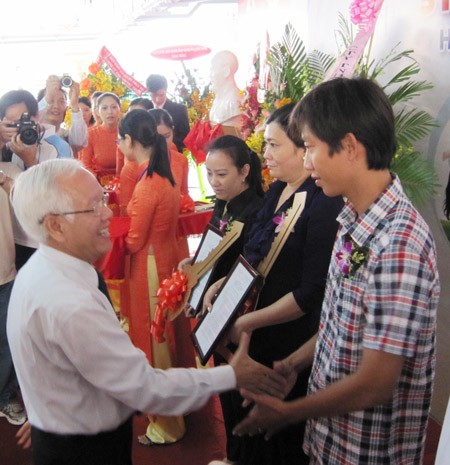 Le Hoang Quan, Chairman of the People's Committee in HCM City (L) hands over the flat ownership certificate to residents in in An Phu – Binh Khanh ward in district 2, Hochiminh city.
Le Hoang Quan, Chairman of the People's Committee in HCM City said that city authorities were carrying out a big program to relocate a number of households. He also hoped that the resettlement projects would bring better living conditions for the people.
He hoped that the city authorities, the investors and the building companies hasten the steps, focusing on building social infrastructure (for instance hospitals, schools, entertainment areas…) so that relocated people will stabilize the new lives as soon as possible.
Ho Chi Minh city is implementing a big scale relocating program aimed at improving the lives of the poor in various fields and strengthen investments in infrastructure in disadvantageous areas and to help the city develop socio-economic infrastructure, raising living standard and attract foreign investment.
"The plan on building new urban zones in outlying areas in an effort to reduce the population in downtown is hardly a success as many people buy lands in suburb, while still living in downtown," said an official of the city Department of Construction.
"Relocating polluted producers to the city suburb has not eased the problem as only employees, who are immigrants, followed their company to the new place. Those who live in the city remain willing to travel long distance to work, which worsen the traffic", said Nguyen Dang Son, deputy head of Institute of Urban Research and Infrastructure Development.
Efforts to relocate people to the outlying areas have seen the HCMC authorities opt to improve the traffic system and build satellite urban zones.
They noticed that the education development at outskirts will be an important stepping stone to speed up the growth rate of satellite cities.
Ho Chi Minh City also plans to relocate construction material factories and cement mixture plants from the city limits by 2020 to other localities or to industrial parks in the city.
Under the plan, the city will terminate operations of clay-fired tile factories by 2011 and construction material factories that have outdated production technology, that do not adhere to healthy environmental conditions or have low economic efficiency, by 2015.
The plan will only allow the city as a show window, display and exhibition center for construction materials.