According to preliminary statistics from the Ho Chi Minh City's Department of Transport, about 60 percent of streets in the city presently have no name.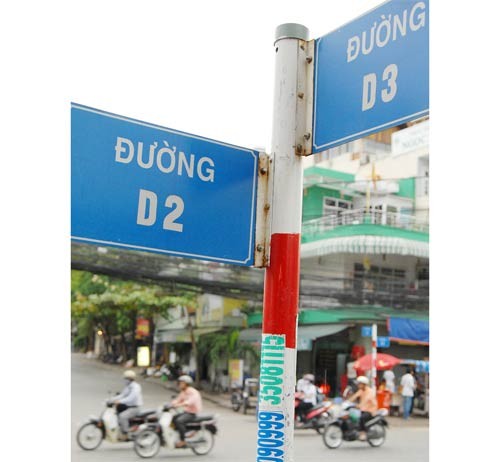 Street name plates in Binh Thanh District, Ho Chi Minh City (Photo: SGGP)
Names without streets
There are some streets appearing on list that people cannot find. Recently, the city's Department of Transport has found that some roads not built yet and therefore which cannot be found, have already been named, accounting for the confusion.
For instance, Khong Tu Street in Tan Phu Ward, District 7, is introduced in detail as being 1,015 meters long, 21 meters wide, with a road surface of 14 meters.
However, these streets only exist on paper. In reality, the area where they will become streets one day is currently being prepared for construction.
There are at least 14 streets with names, which are impossible to locate within
districts 7, 12, Go Vap, Tan Binh, and Cu Chi. The presently nonexistent streets are named Bui Chi Nhuan, Do Hanh, Rach Doi, Ton Quang Phiet, Le Hi, Vu Dinh Long and Lan Me Linh.
Where the streets have no name
Many streets did not receive official names from the city's management agency upon completion of their construction, but have been given unofficial monikers by local people or administrations.
Therefore, many streets have very odd names. Some names are very long, while some are very short and simple like D1, D2, 7A, 9A and No. 26.
In mid-2006, the city Transport Department urged urban transport management agencies to work with People's Committees of districts to name streets according to guidance from the HCMC People's Committee and the Transport Ministry.
Yet, for five years the naming process has yet to proceed, so local people and administrations have taken to naming the streets spontaneously.
Officials blame the stagnation of naming streets on the increasing number of roads built recently in new residential areas.
The department said the Ministry of Culture, Sports and Tourism should issue concretely specific regulations on the temporarily naming of streets in new residential and urban areas.
The city's Department of Culture, Sports and Tourism should work with the relevant agencies to adjust, supplement and regulate the actions of the city's street naming panel, so that they appropriately handle the situation.
The panel should quickly consider and approve suggestions for naming streets by districts.
The Transport Department has asked People's Committees of districts to list their streets without names, as well as those with only unofficial ones.