Ho Chi Minh City has become one of three localities topping the list of the country's biggest Foreign Direct Investment (FDI) recipients, along with Ha Noi and Dong Nai province.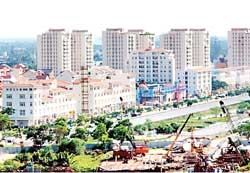 Phu My Hung residential area in suburban HCMC
Ho Chi Minh City attracted nearly US$2.6 billion of FDI this year, a 16 percent increase over last year.

So far this year, the city has licensed 460 FDI projects with total chartered capital of US$2.28 billion, while approving an additional US$310.9 million of FDI for 197 other projects.

Among them, 67% are invested in services and only 7% in real estate.

Vice-chairman of the HCMC People's Committee Nguyen Thanh Tai said the city's FDI approach is on the right track to boosting the city's trade and services.

However, statistics from the Department of Planning and Investment shockingly contradict the Vice-chairman's remarks. They indicate over 70 percent of US$1.6 billion in FDI over the first 10 months of 2007 went to real estate and, as of November, real estate comprised 85 percent of around US$2 billion in FDI.

One economist said investment in real estate in HCMC is currently providing "extraordinary" profits, so it is quite understandable that foreign investors, too, are flocking to that market.

Since the city's land fever began in March, land prices have continuously climbed skyward, especially of those for housing.

The city recently saw disturbing levels of speculation-based property sales ominous of a market bubble when thousands surrounded a housing site in late October to purchase flats in CapitaLand's Vista complex in District 2, even before foundations had been laid.

The ultimate victims of land fever are buyers and Government, not to mention the city's appearance and functionality being lost to unplanned buildings.