Communist Youth Union and Vietnam Student Association in Ho Chi Minh City yesterday kicked off Green Summer Campaign at September 23 Park.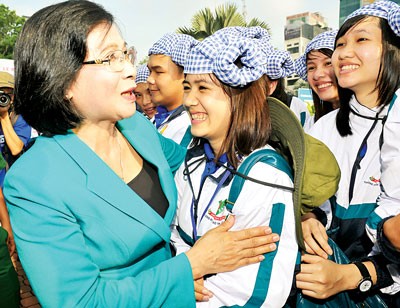 Deputy Secretary of Party Committee of Ho Chi Minh City Nguyen Thi Thu Ha encourages young people before the launch ceremony (Photo:SGGP)
The ceremony was attended by Nguyen Thi Thu Ha, Deputy Secretary of Party Committee of Ho Chi Minh City; Chairman of Vietnam Student Association Le Quoc Phong; Member of the Standing Committee and Head of the Ho Chi Minh City Party Committee's Department of Propaganda Than Thi Thu; leaders of provinces and thousands of youth volunteers.
The 2014 Green Summer Campaign attracted participation of 90,000 young people, union members and students, who are studying, working and living in Ho Chi Minh City.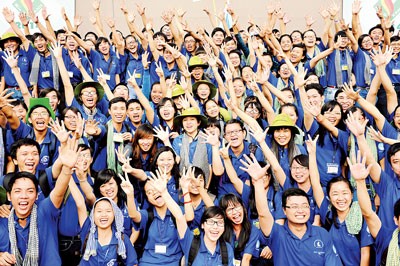 HCMC youth students are so enthusiastic before the launch ceremony of the 2014 Green Summer Campaign(Photo:SGGP)
Like previous years, the campaign deploys volunteers not only in five urban districts of Ho Chi Minh City but also Southeastern, Southwestern, South Central and Highlands Central provinces and several provinces in neighboring country of Lao .
In order to express patriotic spirit of Ho Chi Minh City's young people towards the country's sea, island the campaign chose Ly Son Island as a new destination for the 2014 Green Summer Campaign. The volunteers will train IT skills and teach English language for 100 staffs, soldiers, youths and children; supply free medicines, computers and notebooks for poor children.
 
Moreover, the volunteers will collaborate with local authorities and residents to participate in upgrading ten kilometers of concrete roads and ten concrete bridges; repairing electricity grid systems; and planting 40,000 trees along Saigon River.
 
This year's campaign also attracted 30 youth volunteers from Malaysia. At the launch ceremony, the Malaysian volunteers chose Nha Be District and Tan An city (Long An province) as a destination for their campaign. They will teach English language for children.
 
Speaking at the ceremony, Deputy Secretary of the HCMC Party Committee Nguyen Thi Thu Ha praised young people's volunteer spirit and encouraged them to complete well targets and missions.
 
The campaign is a useful playground for the youth to train working and living skills, added the Deputy Secretary.
 
After the launch ceremony, thousands of young people participated in cleaning rivers, garbage collection, riding bicycle to call on city's inhabitants for environmental protection and anti-climate change prevention.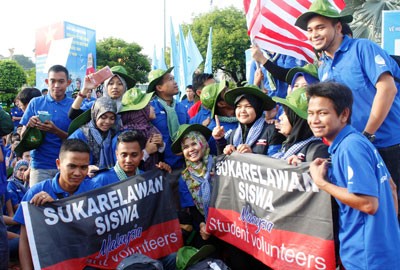 Malaysian volunteers participate in the 2014 Green Summer Campaign (Photo:SGGP)