The annual Vietnam Genius Competition, which gives away awards for innovations in information technology, will also confer awards in the natural science category starting this year.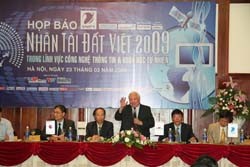 The press conference that was held in Ha Noi on March 23 to announce this year's Vietnam Genius Competition in the northern region. The annual contest awards innovation in IT and, from this year, natural science. (Photo: nhantaidatviet.vnn.vn)
This was announced when Vietnam Television, newswires VnMedia and Dan Tri and the Vietnam Posts and Telecommunication Group (VNPT), the organizers, held a press conference to unveil this year's competition in the southern region.
Vietnamese candidates, living inside or outside the country, are eligible for the awards in the hardware, software, and internet solutions categories.
From this year scientists who have done outstanding research works that have been published in prestigious national and international journals are eligible for the awards.
The first prize offers VND100 million in cash, second prize VND50 million and third prize VND30 million.
Entries will be accepted until August 31.