Districts administrators and relevant agencies must speed up anti-flooding projects to ease the current serious flooding and make sure no more flooding areas created, according to a directive issued by Mr. Nguyen Trung Tin, deputy chairman of the city's People Committee.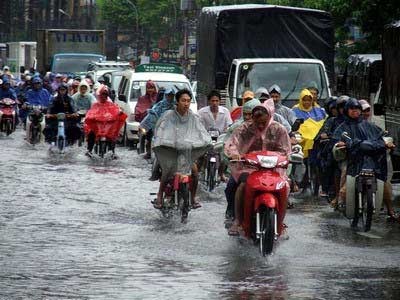 Anti-flooding projects must be speeded up to ease the current serious flooding.
Contractors of the Department of Transports and Communication must complete 15 anti-flooding projects and put them into operation as soon as possible, according to Mr. Tin's directive.
In addition, the Department of Agriculture and Rural Development must develop 156 works for small, but strong embankments to cope with floods and storms, according to the directive.
While waiting for major projects to be completed, the city allows the Center for Execution of Anti-flooding Programs to set up flood control walls along the Tan Hoa – Lo Gom canal and to make temporary anti-flooding plans for the Hang Bang area, Cho Lon coach station and Cay Go – Minh Phung roundabouts.
The center assess the possibility for setting up a flood control tide system at the Nhieu Loc – Thi Nghe canal to replace the existing systems at the Van Thanh Bridge and Bong Bridge areas.
The center will also make its choice between two optional solutions for planning Bau Trau canal: raising the road surface or building a regulating reservoir.
As part of the Tan Hoa – Lo Gom urban upgrading project, the center will work out solutions for removing illegally-built houses along the Ong Buong canal. They will dredge the canal to increase its capacity.