Australian Navy warship HMAS ANZAC arrived in Ho Chi Minh City August 25 to start a five-day visit to Viet Nam to strengthen ties between the two countries through personal relationships established during the port visits.

The frigate came to the southern city with a total of 184 officers and crew aboard, and her visit is part of her 2008 Southeast Asian goodwill tour to Viet Nam, Thailand, Cambodia, Malaysia and Singapore.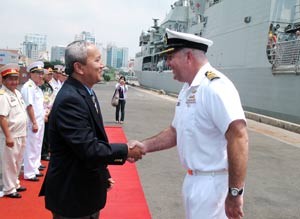 HCMC External Relations Office deputy director Nguyen Vu Tu (L) greets Captain Stuart Mayer at Saigon Port Monday (Photo: Tuong Thuy)
A welcome ceremony was held at Saigon Port, where the ship is docked until August 29. Mr. Nguyen Vu Tu, deputy director of the HCMC External Relations Office, greeted Captain Stuart Mayer and other representatives of the ship, as well as Australian Consul General Mal Skelly.
The Captain told media that this is the second time HMAS ANZAC has visited the city but his first time. He added it is also the first time for many of the crew.

Colonel Stuart Dodds, Australian Defence Attaché in Viet Nam, said, "The ship first visited Ho Chi Minh City in May 2000 to participate in the inauguration of My Thuan Bridge [in the Mekong Delta], a symbol of friendship and cooperation between Australia and Viet Nam."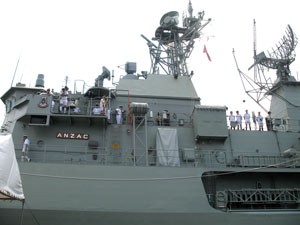 HMAS ANZAC is docked at Saigon Port (Photo: Tuong Thuy)
During the ship visit, the crew will meet with senior officers and sailors from the Vietnamese People's Navy. They will participate in a friendly sporting activity with cadets at the Naval Technical College and play Australian football with team Viet Nam Swans at the Royal Melbourne Institute of Technology, HCMC Campus. The crew intend to conduct charity work as well as tour the city.
According to Defence Attaché Dodds, the two countries started their defence cooperation relationship in 1999. "Since that time, the Australian Defence Force has trained over 1,000 Vietnamese People's Army officers in Viet Nam and Australia."
He added, "I know all the officers and crew of HMAS ANZAC are looking forward to their visit to Ho Chi Minh City as one of the highlights of their five month deployment."
Since the establishment of defence relations in 1999, fourteen Royal Australian Navy ships have paid goodwill visits to Viet Nam.
The frigate ANZAC is fitted with an advanced package of air surveillance radars; hull mounted sonar and electronic support systems that interface with modern weapons.
This year, Australia and Viet Nam are celebrating the 35th anniversary year of their bilateral relationship.