The International Institute for Journalism in Berlin plans to organize training courses in Viet Nam in a fresh move to help Vietnamese reporters improve their skills, said the institute's senior project manager Werner Eggert.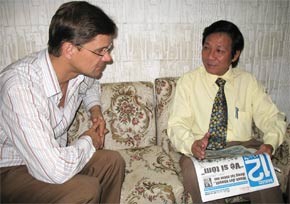 Mr. Werner Eggert (L) and Mr. Vo Hong Son on Saturday (Photo: Tuong Thuy)
"Viet Nam is always our major focus in training," he said in a Saturday meeting in Ho Chi Minh City with Sai Gon Giai Phong deputy editor-in-chief Vo Hong Son.

"A reason behind the new idea is that the courses will be only for Vietnamese. Our courses in Germany are for international trainers, so not as many Vietnamese as expected," said Mr. Eggert.
"The courses in Viet Nam will cost less but I think they will be more useful because they are closer to the reality in the country," he added.
Mr. Son said Sai Gon Giai Phong is willing to work closely with the German institute to carry out the idea. The two sides agreed that one experienced Vietnamese journalist should act as a co-trainer in the courses, and Mr. Eggert suggested Sai Gon Giai Phong act as a coordinator for his organization's training plan. This was also agreed upon.
The German expert said he expects all the preparations to be finished in the first half of next year so that the first course may start in the second half. Mr. Son agreed to help prepare facilities for the journalism training plan.
Mr. Son presented Mr. Eggert with five Sai Gon Giai Phong print publications – the Vietnamese daily, Vietnamese noon edition, Chinese daily, Vietnamese sports daily and Vietnamese weekly. The German said he would display the publications at his institute in Berlin.