The People's Committee of Binh Thanh district, Ho Chi Minh City has asked the owner of a century old villa in No Trang Long street to stop demolishing it after receiving information from an official.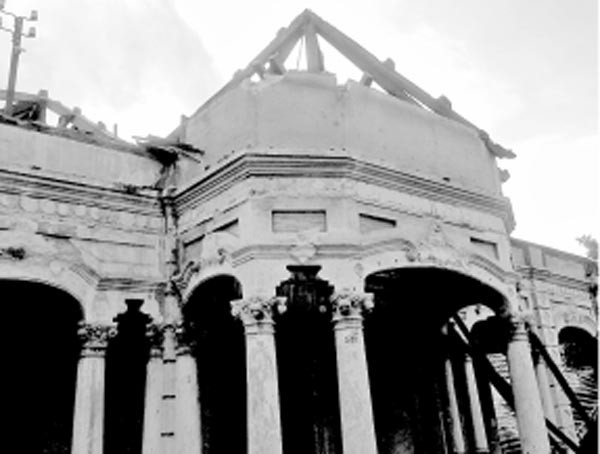 The roof of the villa has been removed in No Trang Long street, Binh Thanh district (Photo: Pham Tran Hai)
Mr. Pham Tran Hai, deputy head of Urban Management Department under the HCMC Institute for Development Studies, has telephoned the committee and the Sai Gon Giai Phong (Liberation Saigon) Newspaper to inform the case.
The beautiful villa is fully deserving of being ranked among group 1 of villas with outstanding architectural values in need of preservation, he stated.
According to regulations at the city People's committee's Document 3606 on October 19, 2006, demolishment of old villas must be approved in writing by the commitee's chairman.
Arriving at the villa, SGGP saw it completely unroofed and some walls demolished. Fortunately, skillfully carved pillars have been untouched. Local citizens said that the villa has been sold to a new owner who rarely comes there.
Twenty years ago, HCMC leaders assigned a group of architects led by Dr. Le Quang Ninh to study and select architectural works in need of conservation in the city.
Afterwards, they selected 108 works including many villas built during the time of French domination. The city's leaders at that time offered a certificate of merit to the group for their excellent work, Mr. Ninh told SGGP.
However the study has stopped at a scientific document on the city's architecture.
The villa preservation continued to be debated with many ideas in 2005. However everything just halted at study level, said associate professor Nguyen Trong Hoa, former head of the institute and former director of the city's Department of Planning and Architecture.
Many seminars and meetings were hosted to build norms to estimate and classify old villas in April last year. The norms have been sent to get opinions from authorized agencies and experts. They will be submitted to the city People's Committee for approval in the next 1-2 weeks.
Statistics by the Department of Construction show that HCMC now has over 1,000 old villas. Because there have no estimation norms, demolishment of each villas must be approved by the city People's Committee chairman.
The process is tight but handling result is asynchronous and sometimes raises queries and complaints from related individuals and organizations, said Mr. Hoa.