Bitexco Group hosted a ground-breaking ceremony for their 55 storey twin tower construction project 'The One' in District 1 in Ho Chi Minh City on Friday.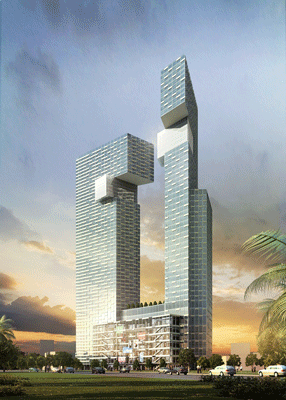 An artist's impression of 'The One' twin tower project which broke ground on April 27 in HCMC
Attending the ceremony was Le Hoang Quan, chairman of the city People's Committee and representatives of various ministries and departments.
'The One' twin tower construction project will be built over 195,000 square metres, with the two tower buildings designed in the shape of dragons.
The tower towards the east will have 55 floors while the tower in the west will have 48 floors. The twin tower complex will also have a five floor basement, of which three will be used as parking areas.
The entire complex which includes a trade centre, luxurious offices and apartments, and the six stars Ritz Carlton Hotel, is estimated to cost US$500 million.
On this occasion, the Bitexco Group donated VND2 billion (US$95,000) to the city fund for the poor.