A gas leak caused a fire at the under-construction 32-story Kumho Asiana Plaza complex in Ho Chi Minh City at around 5:00 pm on May 24, damaging the air-conditioning unit but causing no casualties.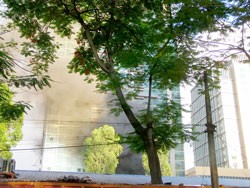 Smoke is seen in the blaze
Commander Nguyen Van Nhut, deputy manager of the District 1 Fire Prevention and Fighting Police, said the fire started on the ground floor following a leak, with a loud explosion and clouds of fumes.

Within 45 minutes the firefighters managed to bring the blaze under control. It reportedly damaged 35 external units of the complex's air-conditioning system.

Work began on the US$255 million office-building complex in October 2006. It is being built by Korea's Kumho Asiana Group.

The complex, on Le Duan Street, will also have a 5-star hotel with 300 rooms.

Investigations are on into the cause of the fire.