The Bodhisattva Thich Quang Duc Memorial located at the intersection of Cach Mang Thang Tam and Nguyen Dinh Chieu streets in District 3 was inaugurated on September 18.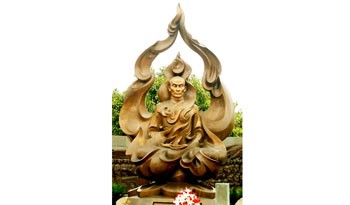 Statue of Thich Quang Duc Bodhisattva
The 6.3m-tall bronze sculpture depicting Bodhisattva Thich Quang Duc sitting inside a heart-shaped flame is placed at a busy area of nearly 2,000 square meters, where the Most Venerable Thich Quang Duc committed self-immolation on June 11, 1963, at the age of 66.
The model of the statue was selected from the dozen entries in a designing competition aiming to build a statue for comemorating Bodhisattva Thich Quang Duc  who burned himself to death at the intersection in 1963 to protest against the South Vietnamese regime's oppression of Buddhists.
The Bodhisattva Thich Quang Duc Park, started two years ago, will be a destination for local and foreign visitors to recall the monk's patriotism, determination to fight against oppression and willingness to die for his country's independence and unification.