"Encouraging overseas Vietnamese to invest in export processing zones (EPZ) and industrial parks (IP) in Ho Chi Minh City (HCMC) is a major goal of our deal with the EPZ-IP management board in HCMC" said Dr. Nguyen Chon Trung, head of the Committee for Overseas Vietnamese in HCMC, at the cooperation agreement signing ceremony on April 5 in HCMC.
 
The agreement seeks access to the overseas Vietnamese community's investment capital, scientific-technological achievements and cooperation in human resource development. The two sides also plan to jointly study proposals on preferential policies towards overseas Vietnamese investors. 
 
To reach this target, the two sides will regularly hold trade promotion campaigns, scientific and technological workshops, and training courses in association with the Semi-Private College of Technology-Enterprise Administration and the Scientific and Technological Club of Overseas Vietnamese to meet the requirements of EPZ and IP enterprises.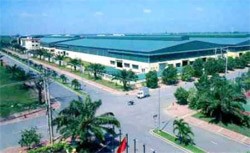 A Corner of Tan Tao IP

"There are three million overseas Vietnamese all over the world. Many of them are famous businesspeople or leading experts in important fields. Their investment back home will certainly facilitate the development of the City and the country. I hope this cooperation will attract many overseas Vietnamese in investment in EPZs and IPs in HCMC." says Dr. Trung. 
 
This cooperation is a turning-point in the development of the two units, adds Head of the EPZ-IP Management Board Vu Van Hoa.
 
Dr. Tran Ha Anh, Chief of the Scientific and Technological Club of Overseas Vietnamese in HCMC and President of the Association of Overseas Vietnamese Enterprises in HCMC Phan Thanh both appreciate the deal as a huge leap in support of overseas Vietnamese operations in the homeland.
 
Currently, export processing zones and industrial parks are not only boosting efforts to develop in quality and quantity to attract investment but also pushing for higher effectiveness and product values. Also, domestic experts are being trained to gradually replace the foreign staff working in EPZs and IPs. To be well done, these tasks require significant investment, and overseas Vietnamese are a major resource of interest.
 

Related link:
Export Processing Zones and Industrial Parks in HCMC