After 10 months' implementation, the pilot project "Assigning ward/commune authority to certify copies of original documents" in Ho Chi Minh City has seen considerable results.

The project has been implemented in 317 wards and communes in HCM City since May 1st, 2005. People can come to the nearest office to have their copies certified instead of waiting for hours at public notary offices as earlier.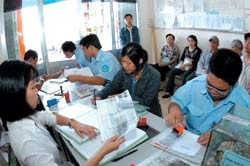 Documents notarized at the People's Committee of Cau Kho Ward, District 1, Ho Chi Minh City (Photo: SGGP)
Thanks to good preparations, the work has been progressing smoothly from the first day until now, said Director of Ho Chi Minh City Department of Justice Nguyen Duc Chinh.

"Although there is a large amount of documents, all the wards and communes have conducted their task well by assigning the chairman or vice-chairman to be ready at the table for signing the notarized documents every day. It takes only five to fifteen minutes, or twenty minutes if crowded, to have a certified copy." Mr. Chinh added.   

"There are no more sights of pushing and jostling or documents taking a 'short-cut' as earlier…" said Head of Public Notary Office No.1 Nguyen Van Cheo.
                                                                       
This kind of reform has reduced the workloads and pressure of current public notary offices in Ho Chi Minh City. People welcome this move as they no longer have to flock to public notary offices, which is very time-consuming and frustrating. This change was truly a breakthrough in public administration reform of the city, supported by the people, according to Mr. Chinh.

The Ministry of Justice (MOJ) has proposed that the pilot project in HCM City be carried out in other big cities such as Da Nang, Hai Phong, Can Tho and Ha Noi. Moreover, under the new project, these localities will assign ward or commune authority to certify Vietnamese copies; public notary offices only certify documents written in foreign languages. "It is also pointed out in the draft Law on Notarization which we're working on, to be presented to the government", said Head of MOJ's Department of Administration and Justice Tran That. 
Related Articles:
Related Links: