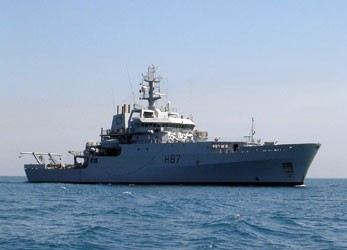 The British Royal Navy Survey Vessel HMS ECHO
The British Royal Navy Survey Vessel HMS ECHO will pay an informal visit to Ho Chi Minh City on October 21, 2006. The Ship left the UK in May for a deployment to the Middle East and Far East.
ECHO is visiting Ho Chi Minh City to strengthen ties between the UK and Viet Nam. Recognising the importance of maritime security to Viet Nam the visit will allow an exchange of hydrographic data and information and provide opportunities for the Hydrographic Survey Regiment to witness the technology and capability of ECHO's survey systems.
ECHO is the first-of-class and is equipped with modern sensors capable of collecting data from every element of the marine environment. The surveys produced, utilising her state-of-the-art Integrated Survey Suite delivers a product far superior to anything previously seen.
During the visit the crew will host the Saigon Children's Charity with a tour of the ship, take children from charitable organisations to Dam Sen Park and they will play football against a local team from Friendship House at Thong Nhat Stadium. On Monday they will host the Viet Nam Navy Hydrographic Department and make calls on local military commanders and civil dignatories. The ship is due to depart Thursday 26 Oct.