To celebrate the 31st and 120th anniversaries of Reunification Day and International Labor Day, and the successful conclusion of the 10th National Party Congress, a ceremony was held at the Ho Chi Minh City Opera House on April 27.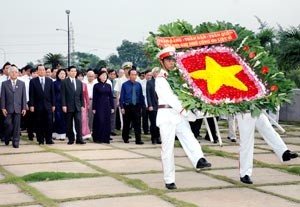 City leaders visits the Martyr's Memorial

Present at the ceremony were two Politburo members, Mr. Nguyen Minh Triet, Secretary of HCMC Party Committee and Mr. Le Thanh Hai, Chairman of HCMC People's Committee.
Addressing the ceremony, Mr. Le Thanh Hai said: "Our city, which was always at the fore-front of the southern bastion during the war, has made great achievements of historic significance during the past 31 years".
"It has turned from a consumer city, whose infrastructure mainly served the America's aggressive war, into a city in which its people can run their own business, with the new working and business people, into a big center in terms of economics, culture and science-technology and a place for international hub of the whole country", he added.
He also said that the city is determined to speed up development and actively integrate into the global economy; besides, it will implement five major programs on socio-economic development in 2006-2010 to build the Heroic City more prosperous, modern and civilized.
On canvassing some results of the 10th National Party Congress, Mr. Le Thanh Hai stressed the stance, strongly approved at the Congress, that economic development should be coupled with cultural development and that social equality should be gradually factored into the city's policies of development.
Particularly, Party building and restructuring work is one issue of great concern at this Congress. During the preparation for the Congress documents, the overwhelming number of feedbacks, all relating to Party-building work, showed a great aspiration of the people to make the Party strong and clean so that it can lead Viet Nam on the road to prosperity on the socialist foundation. The Congress demonstrated the determination of making radical changes in Party building.
Young Party member Duong Thuy Y Phuong, a 20-year-old student, on behalf of the city's young people, expressed the determination to succeed the previous generations in serving the country and the ideal of an independent, socialist nation.
Earlier, the delegation of city leaders, led by Mr. Nguyen Minh Triet, offered incense and laid wreaths at the city's Martyr Memorial and Lac Canh Memorial.