The seminar on building sustainable business models in Vietnam was co-hosted this morning in Ho Chi Minh City by the Consulate General of the Kingdom of the Netherlands in HCMC and Vietnam Business Council for Sustainable Development, Vietnam Chamber of Commerce and Industry.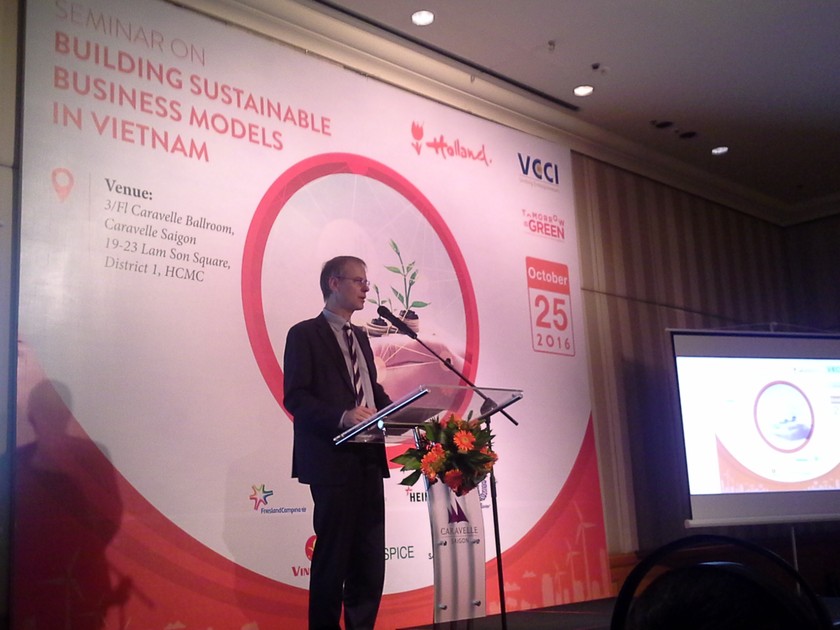 Vice Minister Marten van den Berg at the conference
Vice minister for Foreign Trade of the Netherland's Ministry of Foreign Affairs Mr. Marten van den Berg led a business delegation of 34 Dutch companies and Deputy Secretary General of the Vietnam Chamber of Commerce and Industry (VCCI) Mr. Nguyen Quang Vinh; the Substainability agenda for Heineken in Vietnam Mr. Peter Simons; General Director Nedspice Processing Vietnam Ltd Mr. Willem van Walt Meijer; representatives from Vingroup, Unilever Vietnam, Saigontourist attended the conference.
Stressing the conference, Vice Minister for Foreign Trade of the Netherlands' Ministry of Foreign Affairs Marten van den Berg said building sustainable business models in Vietnam is a challenge. Both VCCI and the Dutch have a keen interest in sustainability as is shown in VCCI's Vietnam Business Council for Sustainable Development (VBCSD) and our tomorrow is green campaign in Vietnam. It is no surprise that we have found a way to combine these initiatives into this seminar.
"The private sector is a key when it comes to sustainability. Every company has the ambition to grow, but the growth shoud not come at any cost. Many companies do not realize that the growth measured in purely economic or financial terms has become to limited a concept. To truly solve broader social and environmental issues that effect both current and future generations and businesses, a new orientation is needed. And now we see more and more developing solutions to lessen the environmental footprint with a growing number of circular business models. This calls for sustainable growth being integrated into the overall strategy and operations throughout the value chain, linking economic profitablility with social and environmental progress", he added.
Vice minister said that the conference is part of the tomorrow is green campaign, is about sharing good examples, and best practises in Vietnam, hoping that the conference will bring together government officials, international organizations, business leaders to discuss sustainable business model and pratical strategies for sustainable growth.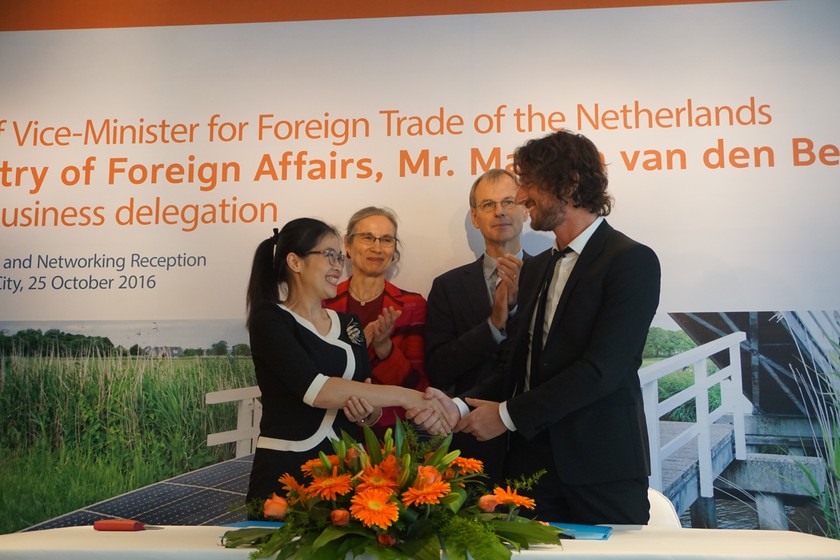 The vice minister witnesses the signing of cooperation agreement between Huong Nghiep A-Au (Vietnamese) and NovoLanguage (Nethrlands)
On the same day, the vice minister witnessed the signing of cooperation agreement for 2016 between Asia-Europe Vocational Training (Huong Nghiep A-Au) and the Novo Language (Netherland).
On this occasion, the Netherlands Knowledge Xchange (NKX) opened its office in HCMC.
"It aims to bring experts from the Netherlands to support Vietnamese SMEs and for knowledge transfer, capacity buidling & sustainable development", said Mr Pepijin Van Dijk, director of VSO.
According to VCCI, trade between the Netherlands and Vietnam is growing steadily. In 2015, the export from Vietnam to the Netherlands increased by 42 percent and the import from the Netherlands to Viertnam rise by 37 percent, compared to last year. The Netherlands is the second trade partner of Vietnam from the European Union (EU) and cumulatively the largest EU investor in Vietnam.