Of late in Ho Chi Minh City, buses have become a security concern for innocent traffic goers on streets, due to callous driving, with many fatal accidents having occurred recently.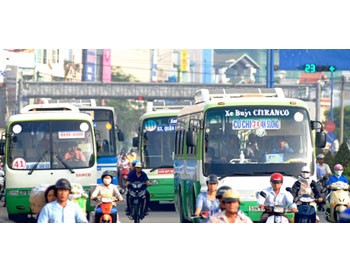 Buses often move in the wrong lane (Photo: SGGP)
On August 7, three buses tried to overtake each other at a very fast pace in District 9, knocking a motorcycle with two grown up brothers. One died instantly while the other suffered severe injuries.
Three days later, another bus ran over a motorcyclist when he fell from his bike on Hoa Binh Street in Tan Phu District.
Sai Gon Giai Phong Newspaper reporters have observed that buses are often caught speeding and driving on the wrong lane.
Drivers justify this by saying that they have to pay penalties if they don't meet time schedules. This puts pressure on them to drive fast.
One bus driver on the Ben Thanh-Long Phuoc route blamed the narrow roads, obstacles like ongoing road works and the regular traffic congestion, which compels them to speed and drive on the wrong side of the road.