The city will persist with its campaign to promote consumption of Vietnamese goods this year, and its success so far has been encouraging, a local official says.
Speaking at a review meeting organised yesterday, Duong Quan Ha, chairman of the HCM City Fatherland Front, said the campaign, launched by the Party's Political Bureau, has received strong support from relevant agencies, enterprises and people.
Many local enterprises considered the campaign a "golden chance" for them to conquer the home market and raise their brand's prestige, he said.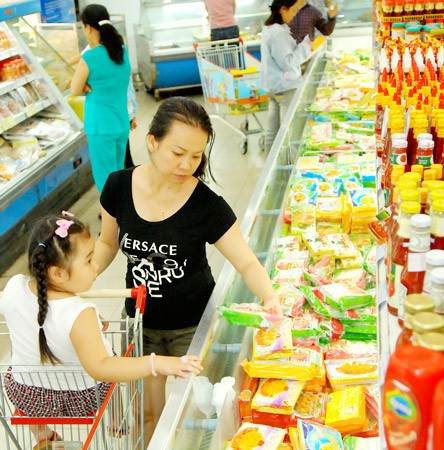 Consumers buying made in Vietnam products in Cong quynh super market
"More and more goods produced by local enterprises have satisfied local consumers' demand both in quality and price," Ha said.
Under the programme, many trade fairs have been held to facilitate consumption of local goods in rural areas. The fairs have helped residents familiarise themselves with Vietnamese goods and helped enterprises establish sales networks in the countryside.
Local consumers had come to trust the products and service quality of local firms, and the consumption ratio of domestic goods had been increasing in the home market, Mr. Ha said.
"Sales of local goods at the Sai Gon Co.op supermarket chain, for instance, surged by 50 per cent last year over the previous year, while sales of imported goods increased by 22 per cent", he added.
Bui Hanh Thu, general director of Sai Gon Co.op, agreed with Ha, saying local goods now accounted for 90 per cent of the total stock at her chain compared to 40 per cent in 2008.
But Ha cautioned that many copies and poor quality goods were still available in the market, especially in rural areas, causing difficulties for local producers.
In addition, some enterprises were taking advantage of trade fairs to reduce their inventory instead of promoting their products, said Pham Quoc Huy, deputy chairman of the Fatherland Front Committee of District 5.
This had some negative impacts on the campaign, Mr. Huy said.
He noted that the campaign to promote consumption of Vietnamese goods was a time-consuming one. There must be closer cooperation between the State, consumers and enterprises to make it more effective, he added.
Local firms should also intensify their focus on improving product quality and design so that consumers gain confidence in buying and using Vietnamese goods, Thu said.