Cargo volume via Cat Lai Port has highly surged in Ho Chi Minh City partly due to an increase in export and import turnover, according to Saigon Newport Corporation.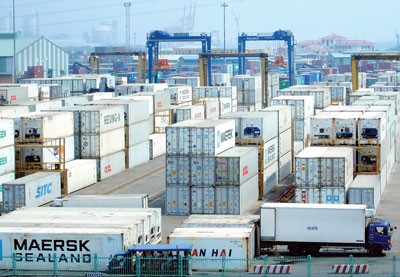 Cargo containers pile up at Cat Lai Port (Photo: SGGP)
The cargo output surged 13 percent in the city in the first six months this year. Of these, Cat Lai Port saw an increase of 12 percent over the same period last year and Cai Mep 46 percent.
Sixty percent of cargo via Cai Mep is transported to Cat Lai for delivery worsening the overloading.
On the other hand, authorized agencies have intensified control over overloaded trucks. This makes transport companies purchase more vehicles to transport the same volume of goods, lengthening demurrage and detention time at the port.
The overloading is also attributed to the Vietnam Automated Cargo and Port Consolidated System and the Vietnam Customs Information System (VNACCS/VCIS), which was applied since June 9.
Since the system was launched, the number of containers delivered from Cat Lai reduces 250-300 ones per day while the number entering the port is up 300-350 per day.
The system required more containers scanning. During June 9-July 9, the volume of scanned goods was thrice increased over the last month but the port can meet only 50 percent of the demand. Therefore, customers must wait 2-3 days to receive their goods.
Other foreign ports like Tanjung Pelepas in Malaysia, Manila in the Philippines, Hong Kong, Shanghai and Singapore have faced congestion since the end of April. The stormy season has delayed shipping schedules, mounting the volume of export containers at Cat Lai.
Newport has no longer been in the rear to reduce pressure for Cat Lai and repair of the road through Phu My Bridge also worsen the overloading.

Saigon Newport Company is struggling to handle the issue and proposed the city People's Committee to instruct relevant sides to soon put Ben Nghe and Phu Huu Port into operation to reduce pressure for Cat Lai.
The committee should create conditions for the company to operate Newport-Hiep Phuoc Port and broaden the Cat Lai Port.