Ho Chi Minh City has more than 645,000 Catholics who have made important contributions to the city's development and its integration into the world.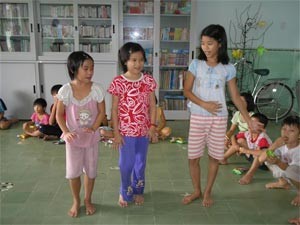 Poor children playing at Binh Hung Social Center, Binh Chanh District
In advance of the fourth Congress of Catholics Building and Protecting the Fatherland, scheduled on Sept. 4, Sai Gon Giai Phong introduces some stories of some Catholics out of hundreds of distinguished examples across the city.
Vocational training
Industrialization has recently created positive changes in Hoc Mon District, with many job opportunities generated for locals. However, to grasp these chances, they are required to have occupational skills.
Conscious of this, Parochial Vicar Vu Dinh Liem of the Hoc Mon Parish, managed to lend a part of the Don Bosco Congregation's premises to set up vocational training courses at low tuition for young people.
Priest Liem purchased teaching implements and applied for a permit from the authorities for operation of the class. The parish encouraged enrollment by announcing it at church services and personal contacts.
The course is open not only to young Catholics, but to all those who wish to learn a vocation. Due to limited financial resources, Father Liem and his colleagues have opened just one class to teach about electricity.
The fee is now VND50,000 (US$3) per month per trainee. Over the past 10 years, hundreds of "made-in-Hoc Mon" electricians have graduated from this class and obtained secure jobs.
Assisting those in need
Mai Lien Cozy Home of the Congregation of the Holy Cross Lovers in District 5 has long been home to orphans, disadvantaged children and abused young girls, regardless of their religion.
Recently, Mai Lien has been supported by the city's Department of Labor, War Invalids and Social Affairs to set up another home named "Binh Hung Social Center" at Binh Hung Commune, Binh Chanh District. The center has "love classes" that offer unfortunate children primary education, living skills, domestic science, and occupational skills.
Every year, the center supports and educates 150-250 children. To cover the spending on classes, nuns of the congregation have to do extra work. So far, 214 members of the center become university students.
Supporting the blind
Despite his poor health, Catholic Nguyen Tat Truc at Son Loc Parish in Cu Chi District is keen on social work, particularly activities to support the blind. He said, "Cu Chi now has 117 blind people living in 20 communes. Obeying the Jesus' instructions to serve our follow man, I have contacted them and poured comfort into their hearts".
He borrowed cassette tapes and CDs of books from the city's Women's Union to provide the blind with a means of relaxation. He has set up a cabinet of "speaking books" with more than 1,000 tapes and CDs.
On the 15th of every month, he distributes 1 ton of rice and about 1,000 instant noodle bags to 105 poor blind in the parish. In addition, he also assists many blind people in applications for loans.
Donating blood
"The more blood donated, the more people saved" is a "motto" of Pham Thi Lan, an reputable elderly and the head of a Red Cross Sub-Union in Go Vap District. Old as she is, she still actively takes part in plans to encourage local Catholics to donate blood through humanitarian donation campaigns organized by the city.
She herself has donated 28 times and her relatives have donated 50 blood units. After each donation, she smiles and says, "I donate a lot of blood but I am still OK."
In response to her advice: "Live an evangelical life in the heart of the nation and bring happiness to everyone", more than 300 people have recently donated their blood.
Eliminating poverty
Quarter 2 of Ward 6 in Phu Nhuan District has more than 300 poor Catholic households. To alleviate poverty, the quarter management board has appointed five prestigious Catholics to lead groups of households in the quarter.
These Catholics have assisted 12-20 households in applying for loans from a fund for poverty elimination with total loans amounting to VND60 million (US$3,600). They also helped local women find jobs at garment factories to improve their lives.
With their support, many poor people have their houses repaired or buy new houses. Many unemployed people have obtained stable jobs. These Catholics have greatly contributed to positive changes in the life of local residents.