The national flag was raised on the roof of the Independence Palace 39 years ago, marking the collapse of the puppet regime and opening a new era of development in Saigon, now Ho Chi Minh City, said a report on national radio VOV.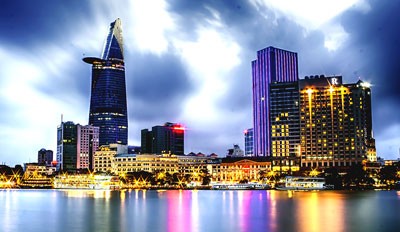 Modern HCMC (Photo: SGGP)
These days, lots of people visit the Independence Palace to get a glimpse of the development of the city after nearly four decades.
"Ho Chi Minh City has seen an unprecedented change. It has become more beautiful with modernized infrastructure. This breakthrough has been a result of hard work and creativity," Le Van Thoa from Binh Dinh province, said.
Thoa is particularly interested in the city's development because he was engaged in the struggle to liberate it 40 years ago.
Thoa said that between 1975 and 1985, the city made it easier for production by establishing new management mechanisms models. It embarked on renovations from 1986 to 1995 in line with the resolution of the 6th National Party Congress.
After Vietnam joined the World Trade Organization in 2006, the city has been able to maintain its rapid growth and has been among the country's top investment destinations.
War veteran Tran Anh Kiet from Dong Nai province was impressed by the city's development over the last few years
"I see great changes whenever I visit the Ho Chi Minh city," Kiet said, adding that the city's development growth was faster than Hanoi and Da Nang . Leadership at all levels has been consolidated and people's living standards have improved considerably.
Upgraded and expanded infrastructure is vivid evidence of the city's growth, he affirmed.
Meanwhile, according to teachers and students of Binh Duong University of Economics and Technology, the city has the highest growth rate in Vietnam.
During the 2001-2005 period, its GDP growth rate was 12 percent, even higher than the national level.
"The infrastructure has been modernized and young people have more job opportunities," said 30-year-old lecturer Tran van Bien.
Positive changes since liberation day have given residents of the city the hope that the city will be on par with other cities in the region in the near future.