Saigon Cyclo Challenge 2012, a community fund-raising charity event, will be organised morning of March 10 at the Crescent Mall in District 7 in Ho Chi Minh City.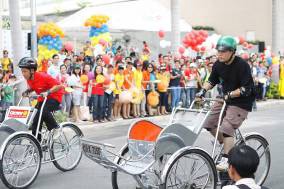 Last year's event created much enthusiasm among competitors
The annual charity event provides a platform for companies to engage in some healthy, team-building competition as well as contribute to child support programmes of the Saigon Children's Charity.
The event has been running for 10 years and continues to deliver excellent corporate team-building spirit as well as being a fun event.
Saigon Children's Charity was founded in 1992 for a specific purpose: to help disadvantaged Vietnamese children to get an education and a fairer start in life. More than 90 per cent of the contributions will go straight to the Children's Charity.
Further information please contact Saigon Children's Charity at www.saigonchildren.com at 59 Tran Quoc Thao, District 3, HCMC or telephone: (84) 83930 3502