Several chemical traders have operated without business license and not complied with related safety regulations in Ho Chi Minh City, resulting in five chemical - related fires and explosions which killed eight and injured six people last year.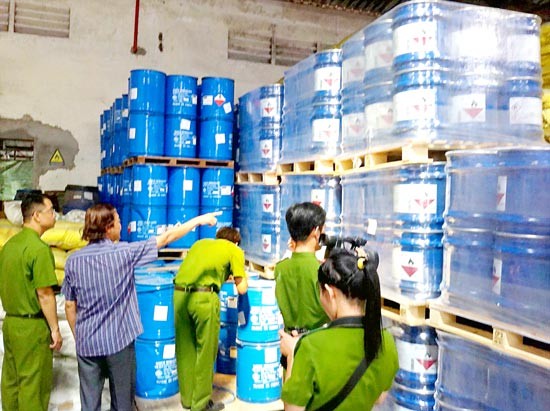 Officials inspect a chemical storage in District 12, HCMC (Photo: SGGP)
Kim Bien Market is well-known for chemical trading in Ho Chi Minh City with tens of stalls in the market and surrounding roads. They sell hundreds of kinds of chemicals including industrial chemicals, food preservatives and toxic types also.
 
These chemicals are contained in plastic bottles and bags without origin, instructions for use and expiry date.
 
A chemical deliverer in the market named Le Thanh Tai said that besides chemicals that are permitted for sale, other banned types are also available. The banned are not displayed at shops but put in other places to avoid inspectors.
 
Similar condition is also occurring at another chemical trading area in To Hien Thanh Street, District 10.
 
Stalls in Kim Bien Market and To Hien Thanh Street are packed with many kinds of from solid to liquid chemicals. However each of them has been equipped with only a small fire extinguisher.
 
In addition HCMC has hundreds of establishments producing and trading chemicals without licenses. They have poured industrial chemicals from big cans into bottles and arranged them in confusion with unsafe electricity system which easily triggers fires and explosions.
 
The HCMC Fire Fighting and Prevention Police Department has implemented an instruction by the city People's Committee to strengthen inspection over chemical businesses in the city to prevent fires and explosions.
 
According to Commander Nguyen Duc Vinh from the department, they have inspected trading establishments and uncovered a lot of issues especially from the management of authorized agencies with overlapped and asynchronous regulations.
 
For instance traders must get business licenses not only from the city Department of Planning and Investment but also the Department of Industry and Trade.

Last year HCMC saw five chemical-related fires and explosions killing eight, injuring six people and causing a financial damage of VND40 billion (US$1.9 million). Safety regulations were not ensured in the process of transportation, preservation, blending, and usage of chemicals permitting the substances to leak out and react with water and oxygen.