There are opportunities to cooperate in urban zoning programs and construction management in Ho Chi Minh City, said Chinese Construction Minister Wang Guang Tao, who recently led a group of leading construction and property development companies to Viet Nam.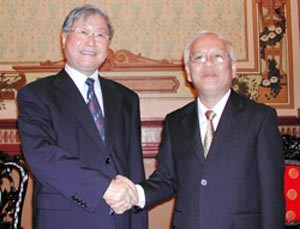 HCM City Chairman Le Hoang Quan (R) is saying goodbye to Chinese Construction Minister Wang Guang Tao.
Chinese Minister of Construction Wang Guang Tao recently paid a courtesy visit to Ho Chi Minh City chairman Le Hoang Quan during his first visit to Viet Nam. The minister was accompanied by leaders of large Chinese companies seeking business opportunities and partners in Viet Nam.
SGGP reporter has interviewed him.
What are your comment and suggestion of the Ho Chi Minh City's programs for urban zoning and construction management?
Ho Chi Minh City is currently under the construction process and improving the overall planning program. I believed that the extension of the central area and green space, the modernization of transportation, housing and public works are very essential tasks of a developing city like Ho Chi Minh City.
I proposed the city join forces with Nanning City to hold meetings on urban planning, infrastructure development and housing development early next year because there are similarities between the two cities in these fields. The meetings will be an opportunity for the two cities to exchange ideas, share experiences and help each other with urban management.
How can China assist Ho Chi Minh City to solve its current difficulties in construction management?
I think that China can help the city solve many pending problems with polluted canals, transportation in beltways and rapid transit systems, Metro and underground constructions.
Viet Nam has recently joined the World Trade Organization, which created a more favorable condition for Chinese construction companies to invest in the country in general and Ho Chi Minh City in particular. I also believe that potential Vietnamese enterprises can also easily invest in China or cooperate with Chinese business to invest in a third country.