Chinese-Vietnamese business people, who are dynamic and flexible, have made considerable contributions to Ho Chi Minh City's economic development and social and cultural activities.    
Strong in business

Ho Chi Minh City is home to more than 400,000 people of Chinese origin, about 6.7% of the city's population. The Chinese community has around 192,400 households doing family business, equal to 20% of the total of family businesses in the city. The rate ranges from 40%-70% in districts 5, 6 and 11. The businesses account for roughly 60% of the total output of the family business sector.
Chinese-Vietnamese businesses play an important role in trading. Kim Bien Market, Dong Khanh Trading House, the Traditional Medicine Quarter and An Dong Market are among important wholesale areas in Ho Chi Minh City.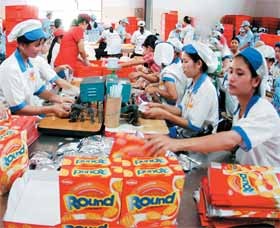 At a confectionery factory of Kinh Do Corp., a successful Chinese-origin company (Photo: SGGP)
Many Chinese-Vietnamese companies have established their brands in Viet Nam and their exports are present in regional countries. The brands include Bitis and Bitas footwear, Thai Tuan fabrics, Kinh Do cakes, Thien Long ball-point pens, and Vinh Tien notebooks. Chinese-Vietnamese companies have been selected into the list of the manufacturers of 100 product lines of Ho Chi Minh City.

Notably, many overseas Vietnamese of Chinese origin have returned to live and do business in the city. The reasons behind this move are the availability of many incentives for overseas Vietnamese and relations between overseas Chinese Vietnamese and the city's Chinese community, who have blood and business ties with other Chinese communities in the world, especially in China and Taiwan.
Regarding these issues, Ho Chi Minh City Party leaders have remarked that stability and long term harmony is a major trend in the Chinese community here.
Diversified Spiritual Life
The trend has resulted from the fact that the city authorities have for many years paid attention to education, training, cultural and religious activities of the community. It is this fact that "has helped boost the community's potentials and strengths in economic development."
At present, the Chinese community has 66 public associations and clubs. Most of them have their roots in living, business, cultural, health care and sport activities, as well as charitable activities for such a long period. This is one of the Chinese community's characteristics, and it plays a very important role in their life.
Duong Quan Ha, chief of the Ho Chi Minh City Party Committee's Organizing Board, says, "Ho Chi Minh City always encourages Chinese associations and clubs to strengthen their charitable activities, to take part in campaigns to support poor people and disadvantaged students. The city has been facilitating the community's religious activities for many years, enabling the activities to preserve and promote cultural identity."
These cultural activities have helped the stability in the community and solidarity between them and other peoples.