Chinese farm produce has not been as prevalent as it used to be at three wholesale markets in Ho Chi Minh City, according to the market management boards.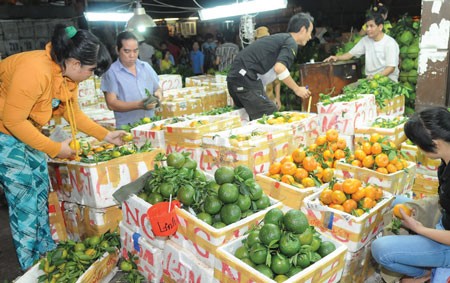 Fruits at Thu Duc Wholesale Market (Photo: SGGP)
The three whole markets include Tam Binh in Thu Duc District, Tan Xuan in Hoc Mon and Binh Dien in Binh Chanh.
Tam Binh Market imported at least 250 ton Chinese fruits and vegetables out of the total of 1,675 tons a day in mid June. However the volume has drastically fallen.
At present, Tam Binh market has imported about 2,150 tons of fruits every day. Of these, 85 tons originate from Thailand, the United States, Australia and New Zealand and 30 tons come from China including peach, pear, apple, grapefruits and mandarin.
Prices of Chinese fruits are quite low but it is not easy to consume, according to traders at the market.
Several traders in the city's retail markets have stopped trading Chinese farm produce due to low demand.
A movement on consumption of Vietnamese fruits especially litchi is taking place in supermarkets like Metro, BigC, Satramart and Co.opMart, who have prepared a large volume of litchi to meet increasing demand.
The litchi price swings between VND14,900 and VND21,000 a kilogram.
Other fruits like mango, guava, rambutan and jackfruit are also well consumed in the city's market at the prices of VND8,000-30,000 per kilogram.