HCM City has begun the second phase of an environmental sanitation project at a cost of more than US$524 million, city authorities announced.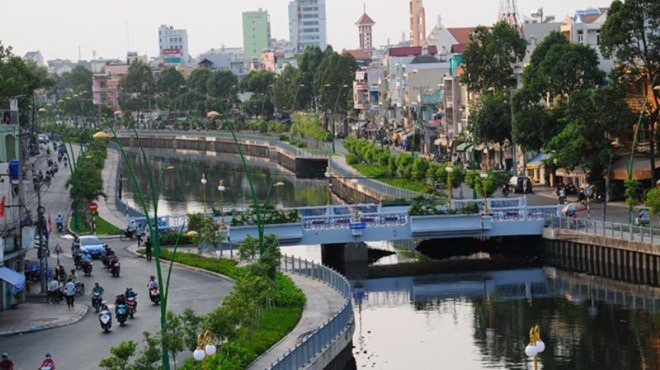 The Nhiêu Lộc-Thị Nghè Canal. The second phase of the environmental sanitation project will build a wastewater treatment plant with a capacity of 480,000 cubic metres a day in Thạnh Mỹ Lợi Ward in District 2. — VNS Photo
Under the project, sewer networks and connections to houses will be built in parts of District 2.
A pipeline will be installed to carry wastewater from the eastern side of the Sài Gòn River to the Nhiêu Lộc–Thị Nghè wastewater treatment plant in District 2, according to the HCM City Environmental Sanitation Project management board.
It will be eight kilometres in length with a diameter of 3.2 metres.
With an 8.3km pipeline laid in the first phase, the total length will increase to 16.3km.
The second phase will also see the construction of a wastewater treatment plant.
To be built in District 2's Thạnh Mỹ Lợi Ward, the plant will treat wastewater that is currently being discharged untreated into the Sài Gòn River.
With a capacity of 480,000 cubic metres a day, the plant, expected to be finished in 2020, will be the largest in the country.
Vương Hải Long, director of the HCM City Environmental Sanitation Project, said the sewer system will play a vital role in carrying wastewater from households along the Nhiêu Lộc – Thị Nghè canal in five districts and those in District 2 to the plant for treatment.
The second phase will cost $524 million, of which $450 million will come from World Bank loans.
HCM City will provide $74 million from its own resources.
The project is expected to improve the environment by treating wastewater, strengthen institutional capacity to manage sanitation and wastewater treatment and increase public awareness of the benefits of improved sanitation practices.
The project will benefit some two million people in districts 1, 2, 3, 10, Phú Nhuận, Tân Bình, Bình Thạnh, and Gò Vấp.
It will also provide technical assistance to improve the city's sanitation and wastewater management practices.
In addition, it will help the city prevent flooding since in the first phase a pumping station was built in Bình Thạnh District with a capacity of 64,000 cubic metres per hour.