Hai Thuong Management Humanity Hospital Corp. officially started a project to build a hi-tech international hospital on Februay 21 in Binh Chanh suburban district, Ho Chi Minh City.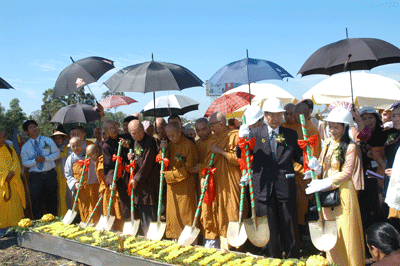 Buddhist monk delagates start working the project
Costing $70 million, Hai Thuong Humanity Hospital is located on 19.5 hectares specializing in three areas:
A treatment area has 13 examination rooms and wards that can accommodate 600 beds.
Training facilities, including a training center for head nurses, community health and teach foreign specialist languages.
Convalescence homes for patients and entertainment areas to aid recovery.
Hai Thuong Humanity Hospital will examine and treat poor people for free, and provide free medicine to 2,000 patients each day, once the hospital starts operating.
Annual operational costs are estimated to be around $15 million, they will be covered by non-governmental organizations in Vietnam and donations.