Thousands of buses currently operating on Ho Chi Minh City streets have been running for the last ten years and are now badly in need of being replaced.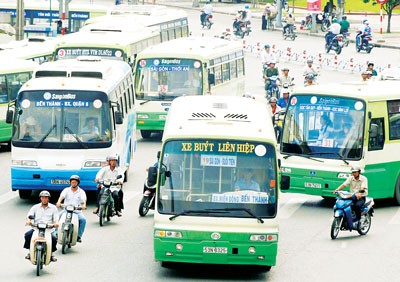 City buses need upgrading (Photo: SGGP)
According to the City Department of Transport, there are about 1,700-1,800 such downgraded buses which need replacement, however, economic difficulties have made this impossible for now.
Several buses have paint peeled off, torn seats, broken glass panes, malfunctioning air conditioners, and exhaust that gives off black fumes while plying the City streets.
The worst downgraded buses can be seen on routes like Mien Dong-Mien Tay, Cho Lon-Mien Dong, Saigon-Thoi An, Saigon-Nha Be and Binh Khanh-Can Gio and in District 8.
Le Hai Phong, director of the HCMC Center for Public Passenger Transport Management and Operation, said that most companies do not have funds to even maintain their buses periodically.
The buses should be fully overhauled every 3-4 years at a cost of about VND380-500 million (US$18,000-24,000) each for safe operations, but actually most of them are only repaired when any damage is detected.
On the other hand, the City now has more than 3,000 buses running on 600 routes but only three bus stations, leading to severe shortage of parking space.
Since 2007, the Prime Minister has asked HCMC to build 30 bus stations across 1,146 hectares of land. However, the City has organized only 28 hectares for bus stations.
The HCMC Department of Transport had asked City authorities to plan 22 bus stations since 2002, but districts have used the land allocated for this purpose for other works. For instance, the Van Thanh Station in Binh Thanh District was cleared for construction of a commercial center.