Ho Chi Minh City is in the midst of a massive dust up of its streets, parks and other public spots in preparation for the rollicking week of frenzied festivities over the 4-15 days folks will have off for the Tet Lunar New Year, say city officials.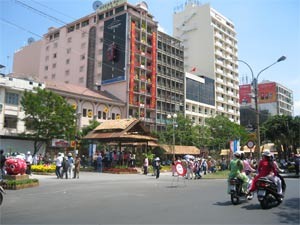 The city center on last year's Tet Holiday (Photo: KK)

The Urban Environment Company under the HCMC Department of Natural Resources and Environment is working out plans for picking up before and after partygoers over January 30, 2008 to February 11, 2008, the fifth day of Tet.

Accordingly, the company is to provide the Phuoc Hiep and Dong Thanh rubbish dumps with sufficient equipment and staff to ensure uninterrupted waste disposal and processing throughout the five, six core days of Tet-time bacchanalia.

Urban services and equipment are to be mobilized for ongoing metro-wide mopping up and shifting of litter and waste to somewhere outside city limits, or out of sight at least, purportedly "by 10pm of the Tet Lunar New Year's Eve".

Local markets are to be required to close by 12am to make way for sanitation services.

Public interest companies are to assign 30 percent of staff and equipment to trash disposal, ensuring traffic and labor safety, and, we quote, "preventing explosions" over the holidays.

Urban sanitation services are reportedly to spearhead their hygienic-cum-aesthetic thrust over the first two days of Tet.