Ho Chi Minh's shops are busy preparing for Christmas and eager families are out shopping for presents, decorations or partaking in the many services that have sprung up for the festive season.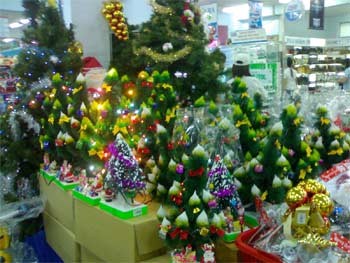 Pine trees on sale at Co-op mart.  (Photo:KK)
A great number of pine trees are nearly sold out at many stores on major streets including Nguyen Thi Minh Khai, Vo Van Tan, Hai Ba Trung Phan Dinh Phung, Hai Thuong Lan Ong and others. The shops are also trading in gifts and offering customers free delivery of goods by Santa Claus during the Christmas week.

More than 80 percent of decorative objects on offer for this Holy moth are made in China. Meanwhile what's noticeable about the previous Christmas was the preference for Vietnamese rather than Chinese items thanks to their lower prices and more pleasing looks.

Special and unique decorations are competitive weapons among gift shops.

Xuan Trang shop on Hai Ba Trung Street has gypsum statues of Mother Mary and Jesus imported from Europe at costs of VND4.5 million to VND15 million.
Han Décor store on Ba Huyen Thanh Quan Street offers a pairs of Mr. and Mrs. Santa at a prize of VND1.2 million. What's special about those 80cm-high toys is that they can sing and luminesce upon touching a button. The Hanah chain is also selling many kinds of snowman, Santas and other decorations.

Meanwhile, most super markets such as Metro, Big C, Co.op Mart, Maximark and bakeries including Kinh Do Corp , Hy Lam Mon, Duc Phat, ABC, Pham Nguyen have increased their stock by 20-30 percent.

Kinh Do expects to sell 100,000 Santa-shaped and stick-shaped cakes (Bouche) - twice last year's season - for VND150, 000 and VND500, 000 each.
Many restaurants and hotels have also announced special repasts for the holidays, and music, fashion and magic shows. But due to a recent hike in petrol prices, the delivery fee for goods carried by 'Santa Claus' is higher than last year. Most companies charge between VND60, 000-100,000 for a visit by the white-bearded man.