The Ho Chi Minh City's goverment has made many surveys on waterway tourism to create an appealing tourist attraction. However, the project is still on paper. Meanwhile, travel companies are impatient to create a new service to attract visitors.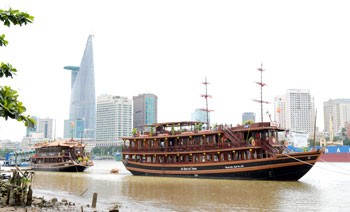 A tourist ship carries visitors to travel on the Saigon River.
There are some short river tours and restaurant boats being operated by travel companies on the Saigon Rivers.

Tours including Hoa Si (Painter) village (near Phu My Bridge in District 2)-Nha Be crossroad-District 2 and Ben Nghe-Tau Hu canal will are ready to go into operation, according to the Department of Culture, Sport and Tourism.

Medium and long-distant routes to neighboring provinces likely Dong Nai, Binh Duong and the Mekong Delta region will be launched in the not-distance future.

The city will also develop river bus services to reduce traffic jams. Experts said that using bus river service would reduce commutes by approximately 40 percent.

The city also lacks a pier system. The Bach Dang Quay is considered as an ideal place, but it can not be enlarged to become a tourist pier because of the urban architecture planning. In addition, not any boat can be anchored in the quay if they have not got any permission of the governing body. Large cruise ships have berths on a port of discharge in District 7.
HCM City has great potential to develop its waterways tourism industry, but it has very few products to meet the demand for this special tourist type and lacked facilities like a fully worked-out waterway network, boats, harbors, and stopovers for tourists.

Related article:
City plans to develop river transport