Ho Chi Minh City authorities and enterprises have predicted that the city's socioeconomic situation will face more difficulties and challenges in the future, due to price hikes.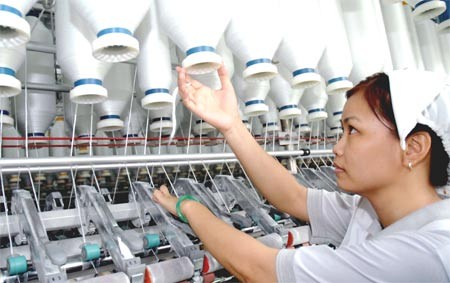 At a textile factory in Ho Chi Minh City (Photo: SGGP)
This prediction was made on March 24 at a meeting to review the city's socioeconomic performance in the first quarter of this year and make plans for the second quarter.
 
According to the HCMC People's Committee report, the city posted a growth rate of 10.3 percent in the first quarter, nearly double the nation's rate of 5.5 percent.
 
The service sector rose by 10 percent, while the industry and construction sector and agricultural sector increased by 10.9 percent and 4.2 percent respectively.
 
Authorities agreed that production and business activities had achieved impressive growth rates in the first quarter because they were well stocked with raw materials on already-signed contracts.
 
Nguyen Van Truc, general director of the Saigon Agriculture Incorporation (Sagri), said that prices of agricultural products had begun to rise in early March.
 
The city's leading enterprises complained about extremely high interest rates and foreign exchange rates.
 
Enterprises that have taken part in the price stabilization program asked for a re-calculation of prices of price-stabilized goods because the material suppliers had raised their prices.
 
Mr. Truc said his company will be able to keep prices of price-stabilized goods stable only until the end of March.
 
An authority from the industry sector said that the city needs to create favorable conditions for enterprises to buy foreign currency to import materials and strengthen management of the market to prevent illegal import of goods.
 
The authority also said that local enterprises can't compete against low-price counterfeit and smuggled goods that have flooded the market.
 
He said that small and medium scale enterprises that make key products should be allowed to access the city's demand stimulating funds.
 
Nguyen Thi Hanh, general director of the Saigon Union of Trading Co-operatives (Saigon Co.op), asked for the city's approval to borrow loans from the demand stimulating funds to develop wholesale and retail systems, because these systems require investments of VND700 billion per year.
 
Solutions
 
Le Hoang Quan, chairman of the HCMC People's Committee, promised that he would continue to help enterprises solve their difficulties.
 
The chairman said the city will work with the Central Bank governor, ministries and relevant agencies on the interest rates and foreign currency issues, early next month.
 
However, he said, that enterprises must review their business plans and solutions to make them appropriate to the current situation.
 
Mr. Quan requested the local administration and departments to pause in the implementation of unessential projects and summon up all efforts and funds to the nearly completed projects.
 
He added that the price stabilization program must be done well in order to curb inflation.
 
Nguyen Trung Tin, the city's vice chairman, asked the industry sector to forecast the sector's development for the coming months based on the current growth rate and investment rate of the sector, especially of the city's four key industries of mechanical engineering, electronics, pharmaceutical and foodstuff processing.
 
He said that saving power is a necessity to be done by households and enterprises. The power sector will continue to financially assist agencies to gradually replace their old equipment and machines with more power-saving ones.
 
Mr. Tin concluded that enterprises that haven't been able to access the city's demand stimulating funds should submit to relevant agencies their business plans to receive loans for buying state-of-the-art equipment and machines to make competitive products.