Ho Chi Minh City should give priority to build social and resettlement houses in the phase 2011-2015, the city leaders have said at a meeting with relevant departments and districts on its housing development program on Wednesday.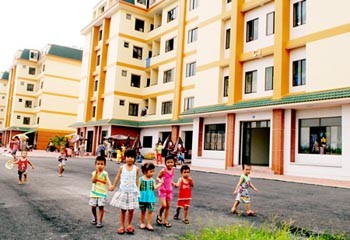 HCM City's housing development program should tend to residents' living environment (Photo: SGGP)
In the past five years, 2006-2010, the city has obtained several targets on housing development, said the Department of Construction. For instance, the housing construction area has reached 33,34 million squares meters, 4 percent topping the target.
Tens of thousands of billion dong have been spent in housing projects, including rebuilding downgraded apartment blocks and build accommodation for workers, dormitories and resettlement areas.
However, the attendance of private sector on those housing projects is still limited as the city has yet given encouraging mechanism to attract investors.
Priority
The city's Department of Natural Resources and Environment and Steering Committee for Housing should quickly reclaim public land areas, which are ineffectively and unreasonably used, for housing projects, said permanent deputy chairman of the city People's Committee Nguyen Thanh Tai.
Relevant authorities should overcome limitations and propose new measures to better perform the housing program in 2011-2015, the phase the city will focus on developing social houses.
Housing development projects should not only focus on building accommodation but also living environment for residents, he said.
The people's committee's chairman Le Hoang Quan stressed that the housing program is an important mission of the city's sustainable development in next five years.
He instructed departments and districts to comprehensively conduct the housing projects and prioritize the resettlement work to facilitate the site clearance for construction of those projects.
The shortage of schools, markets and hospitals at resettlement areas should also be surmounted, he said.