Ho Chi Minh City chairman Le Hoang Quan spoke at a meeting on June 27 that the city would always give priority to health and education projects.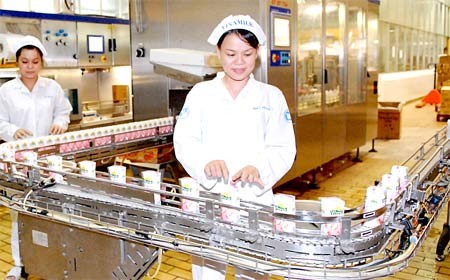 Workers at Vinamilk factory in Ho Chi Minh City (Photo: SGGP)
The meeting was held by the HCMC People's Committee to review the city's socioeconomic performance in the first half of the year and make plans for the second half.

Nguyen Thanh Tai, the committee's standing vice chairman, said the health sector was reeling under an increase of epidemics causing an overload of patients in hospitals.

He added that the city needs to upgrade some district hospitals so as to ease the excess overload in city hospitals, speed up treatment in hospitals and develop effective disease prevention programs.

The city's vice chairman Hua Ngoc Thuan said the city needs to approve funding for new hospitals at entry gateways to the city by the end of this year so that they can be put into operation by 2012 to reduce overloading city hospitals.

Chairman Quan said the second half of the year will focus on the implementation of six breakthrough programs set up by the city's Party Committee.

He said the city will continue to take measures to stabilize prices, ensure production and businesses, stabilize the macro-economy, complete the trial project on developing new rural communes and use funds effectively for basic construction projects.

According to the HCMC Department of Planning and Investment, the city's gross domestic product (GDP) growth rate reached 9.9 percent, equal to 1.7 times the country's GDP, of which the service sector contributed 52.4 percent, the industrial sector 46.6 percent and the agriculture sector 0.9 percent.

Thai Van Re, director of the HCMC Department of Planning and Investment, said the city has achieved a lot by implementing measures introduced by the Government and the city's specific policies.

The city has subsidized loan interest rates to enterprises, helped promote trade and added more items on the price-stabilized goods list.

The city has also strengthened management of the market, which has helped stabilize the socioeconomic growth, Mr. Re added.

The meeting also discussed four months of the city's implementation of the Government's Resolution 11 on curbing inflation, stabilizing macro-economy and ensuring social welfare.

Mr. Tai said the city was firmly in grip of the resolution as it had stabilized production, businesses and prices of essential goods.