According to Le Ngoc Dao, Deputy Director of the Department of Industry and Trade in Ho Chi Minh City, as this year New Year and Lunar New Year are just one month apart--purchase power may rise slightly during Tet festive season with consumption rising by 20 percent compared to last year.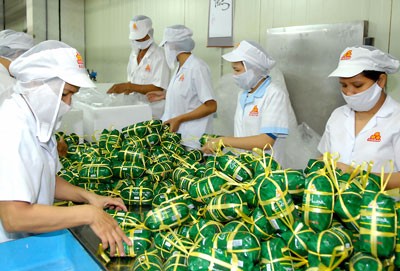 Workers produce products for Tet holidays at a company. (Photo: SGGP)
In order to ensure supply during the Tet festive season, businesses in Ho Chi Minh City have already prepared goods worth nearly VND7.6 trillion, an increase of nearly VND2.2 trillion against the same period last year, with VND4.9 trillion worth of goods under the price subsidized program, up VND1.87 trillion.
Three wholesale markets have also finished plans to supply goods during Tet. This month, Binh Dien Wholesale Market will put in use a cold storage facility with capacity of 21,000 tons over an area of 11,000 square meters, to cater to preservation demand.
At traditional markets, the department has coordinated with Sacombank to offer a loan package of VND1.5 trillion at an interest of 9 percent to help small traders to prepare goods for Tet festive season.
Sweet meats and beverage producers have already ensured supply while confectioneries have presented new products with production increasing by 20-30 percent compared to last year.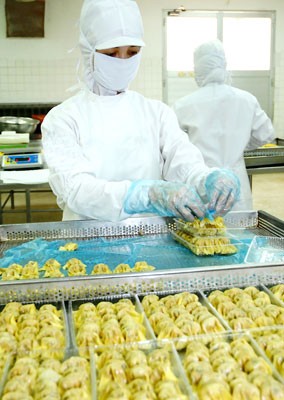 Producing processed foods for Tet. (Photo: SGGP)
Bui Hanh Thu, Deputy CEO of Saigon Co.op, said that the company had concluded with suppliers and producers about quantity and price for several essential goods to meet demand during Tet, with total value of goods at VND5 trillion. Moreover, the company has also run a program to boost consumption of Vietnamese products.
Tran Thanh Nam, Deputy CEO of Satra, said that the company has prepared 10,000 tons of goods, worth VND1.5 trillion, with 1,000 tons of rice, 2,500 tons of sugar, 500 tons of cooking oil, besides fresh foods and processed foods.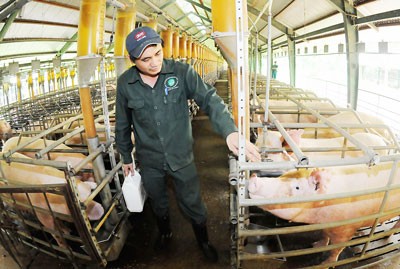 Preparing pork supply during Tet. (Photo: SGGP)
Nguyen Thi Hong, Vice Chairwoman of the People's Committee of Ho Chi Minh City, said that with such preparation, the City will not face shortage of goods supply or a sudden hike in price during Lunar New Year holidays.
The City is currently closely watching the progress of supply plans by businesses participating in the price subsidized program, constantly inspecting price subsidized stores, and has intensified coordination with relevant departments to inspect and control price and food safety.
Ho Thi Kim Thoa, Deputy Minister of Industry and Trade, said that the City should pay more attention on supply, price and food safety as well as transport fare during Tet holidays. She also praised the efforts of the City in preparing goods as well as measures to stabilize the market during Tet festive season, especially the price subsidized program which brings practical results in ensuring goods supply and control of price, and helps to lower consumer price index in the country.