Ho Chi Minh City leaders and some 1,000 people on Sunday attended the opening ceremony of the first-ever Global Traffic Safety Week held in the city.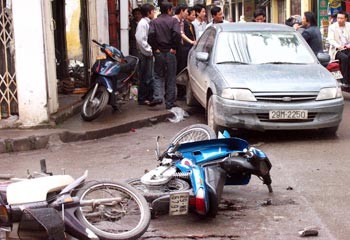 Traffic accidents take the lives of some 1,000 people every year in HCMC, according to the HCMC Committee for Traffic Safety  

The event is part of a global campaign to minimize human and material damages (1 million people killed, 25 million injured and US$883 million in damages) caused by traffic accidents every year. 
 
After the ceremony, traffic police and volunteers were dispatched to residential areas to give instructions about traffic safety to local inhabitants.
 
During the week, traffic police will set up spot checks throughout the city, handing out stiff penalties for a range of traffic violations including speeding, overloaded vehicles, driving the wrong way down one way streets, riding without helmets on highways and others.
 
According to the HCMC Committee for Traffic Safety, some 1,000 people are killed in traffic accidents every year.