Ho Chi Minh City leaders on Tuesday night met around 700 overseas Vietnamese returning from 21 countries and territories to extend their Tet greetings.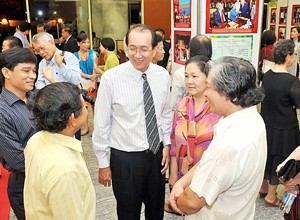 Overseas Vietnamese at a Tet gathering in Ho Chi Minh City on the January 17, 2012 night (Photo: Viet Dung)
City Party Secretary Le Thanh Hai and People's Committee Chairman Le Hoang Quan attended the special year-end gathering.
The city Party chief presented merit certificates to overseas outstanding people and organisations for their significant contributions to the homeland's development
Jonathan Hanh Nguyen, chairman and CEO of Imex Pan-Pacific Group, was awarded a Labor Order, second class.
Vietnamese American David Trung Duong, chairman and CEO of the Vietnam Solid Waste Treatment Limited Company, was awarded a Labor Order, third class. His company was also awarded a Labor Order, third class.
Mr. Huynh Tri Chanh, former chairman of an association of Vietnamese living in Japan, received a merit certificate signed by Vietnamese Prime Minister Nguyen Tan Dung.
In addition, the HCM City People's Committee presented certificates of merit to four organizations and seven individuals.
Addressing the gathering, city People's Committee Chairman Quan said the southern metropolis achieved dramatic economic development last year and overseas Vietnamese contributed to these achievements.
He said overseas Vietnamese were expected to continue to play the role of a bridge in culture, economy and trade, as well as to make further contributions to the homeland's development.
Last year's remittances sent to the city reached US$5 billion, increasing by 25 percent on 2010, according to the city Department of Planning and Investment.