Ho Chi Minh City is determined to achieve strong economic growth this year, with the emphasis on the hotel trade and hi-tech industry.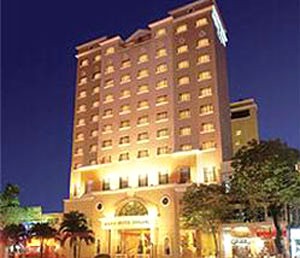 HCMC Chairman Quan suggests state companies should switch their attention to hotel construction (Photo: T.K.)
Chairman of Ho Chi Minh City People's Committee Le Hoang Quan met yesterday with the top executives of state companies and senior department officials, in part to discuss the problems these enterprises are experiencing and find ways to fix them.
 
The city's economy grew rather well in the first two months of 2007 and is expected to grow more as the year progresses and new foreign investment flows in, Mr. Quan said,
 
In order to grasp the opportunities, Mr. Quan said, departments must quickly reform administration and simplify investment procedures, while companies must regularly update market information to find more business opportunities.
 
Viet Nam's commitments to the World Trade Organization come into effect this year so an abundance of changes and challenges lie ahead for the corporate sector. Therefore, the chairman said, the city authorities will promptly solve enterprises' problems and create good conditions for them to obtain up-to-date information, and business cooperation, and boost production.
 
The issue raised by Saigontourist called for the most attention. The company's representative said HCMC will be short 10,000 hotel rooms of international standard by 2010. Based on the number of hotels under construction, the city will have only 1,000 more guest rooms in 2009.  
 
All the city's classy hotels were full in the past two months thanks to the 522,516 international tourist arrivals in Ho Chi Minh City, a year-on-year increase of 122 percent.
 
Mr. Quan suggested that companies with unused land cooperate with other companies and the Department of Tourism to build hotels on the vacant sites.
 
He pointed out that many state companies are involved in office and apartment construction but now they should switch their attention to hotel construction.
 
The more foreigners that visit Ho Chi Minh, he noted, the more the city's tourism industry will grow, fostering other economic sectors like the retail trade along the way.
 
He added that companies also had to develop the hi-tech industry to maintain the city's growth rate.
 
Chairman Quan finished by saying that vice chairmen of the People's Committee will visit companies to help solve business-related difficulties, and the city government will meet quarterly with business people to discuss the city's economic policies.