On the second day of the Ho Chi Minh City People's Council meeting yesterday, the agenda included the use of public funds, a civilized urban lifestyle, and the state of infrastructure.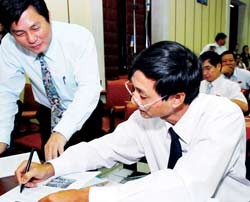 Dao Anh Kiet (L), director of HCM City's Department of Natural Resources and Environment, exchanges opinions with deputy Dang Van Khoa at the meeting(Photo: SGGP)
Deputy Truong Trong Nghia said, "Clear criteria should be laid out for the allocation of public funds to ensure they are used efficiently."
The criteria should be based on social needs, feasibility of the project, and contractors' capabilities, he said.
He also called for slapping sanctions in case of delays.
Dang Van Khoa said, "There should be a conference on the State budget so that all related issues can be examined and tackled efficiently."
Le Nguyen Minh Quang called for a re-assessment of all public projects that are in the works. "Only when we assess the viability of a project can we decide if public funds can be allotted to it and how much."
When the discussion turned to the ongoing city campaign for a civilized lifestyle, many deputies felt that the city cannot meet the standards set under it until 2020.
They blamed the current problems on a lack of public consciousness, ineffective communication programs, and poor administration of the campaign.
Nguyen Minh Huong said the campaign regulations should be more specific -- like banning spitting and littering in public places.
Lawmakers also discussed the rampant pollution, with many calling for amending laws to give them more teeth.
They cited the example of Taiwanese MSG maker Vedan, which seriously violated environmental regulations for a long time but escaped criminal prosecution.
Dao Anh Kiet, director of the city Department of Natural Resources and Environment, said he would draft a policy to encourage people to take part in environmental protection.
Other chronic problems facing the city, like traffic jams, flooding, and dug-up roads, were also discussed.
The legislators agreed that the dredging of rivers and canals should be speeded up, irrigation works done more efficiently, and investment in traffic infrastructure strengthened.