The Ho Chi Minh City administration instructed its agencies yesterday to ensure the prices of essential commodities are stable, supplies are adequate, and food items are safe and hygienic during the lunar new year (Tet) next January.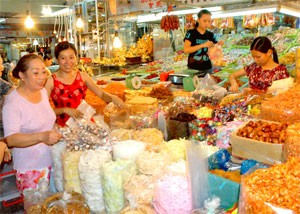 Shoppers at HCMC's Ben Thanh Market during Tet last year (Photo: SGGP)
Le Hoang Quan, the People's Committee chairman, also said roads that are blocked for repairs and other works, should be opened in time.
 
He urged companies to hold enough stocks before and after Tet to prevent price shocks caused by shortages. 
 
He ordered concerned agencies to monitor prices, check smuggling, and penalize violations of food safety regulations.
 
According to the People's Committee's, 35 percent of 3,800 food-making units inspected this year failed to meet hygiene and safety standards, with 60 falling so far short that they were closed down.
 
Besides, out of 4,000 kitchens at schools and companies, 1,300 did not meet hygiene standards either. There were also over 1,000 instances of food poisoning, a third more than last year, and 27 cases of alcohol poisoning in which nine people died.
 
City vice chairman Nguyen Trung Tin said companies need to limit imports of agricultural and food products, and urged consumption of local produce to help farmers.
 
Mr. Quan asked the Transport Department to report on the progress of construction of key roads, adding that Nguyen Huu Canh, Cong Ly, Khanh Hoi, and Nguyen Van Cu bridges have to be finished soon to open for traffic before Tet.
 
With interest rates still high, Mr. Tin urged official agencies to assist companies. He spoke about the possible setting up of a fund to help them remain open so that workers would not lose jobs.