Secretary of the Ho Chi Minh City Party Committee Dinh La Thang and a city's delegation yesterday received the Association of Koreans Loving Vietnam (Vesamo) in Busan city.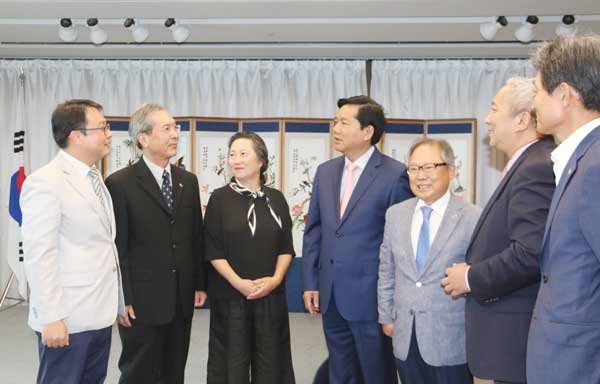 City Party Secretary Dinh La Thang (C) talks to members of Vesamo in Busan on September 11 during an eight day working visit by a HCMC's delegation to South Korea since September 7 (Photo: SGGP)
Stating at the reception, the secretary said that the friendly cooperation relationship between HCMC and Busan is considered to be an outstanding highlight with many achievements for the last two decades.
Vesamo's support and efforts are indispensable in these successes, he affirmed.
The association has made practical contributions in deepening Vietnam-South Korea relations through diversified and practical activities such as informal meetings marking Vietnam's Reunification Day on April 30, seminars on the East Sea, visits and presents to Vietnamese Agent Orange victims.
Secretary Dinh La Thang hoped that Vesamo will have more forms of operation and initiatives to boost the cooperation and friendly exchanges between the two nations and the two cities.
Honorary chairman of the association Park Kwang Joo affirmed that it will attempt to contribute in diversifying the friendly cooperation relationship between the two countries.
Vesamo is a non-profit organization founded in 2002, operating under the management by the South Korean Ministry of Foreign Affairs.
The association has over 100 members who are mainly intellectuals, artists, journalists, lawyers and entrepreneurs from the south of the country comprising Busan, Ulsan and Kyeongnam province. Many of them are fluent in Vietnamese.
Vesamo has conducted many significantly social activities contributing in developing the two nations' friendship.

Related articles:
HCMC -Busan relations dynamic, efficient
HCMC Party Chief visits South Korea, seeking stronger cooperation, investment